Life Style
Posted at: Oct 3, 2017, 12:43 AM; last updated: Oct 3, 2017, 12:43 AM (IST)
WEIGHT WATCH
Dietary modifications are mandatory for people who are in their 40s and 50s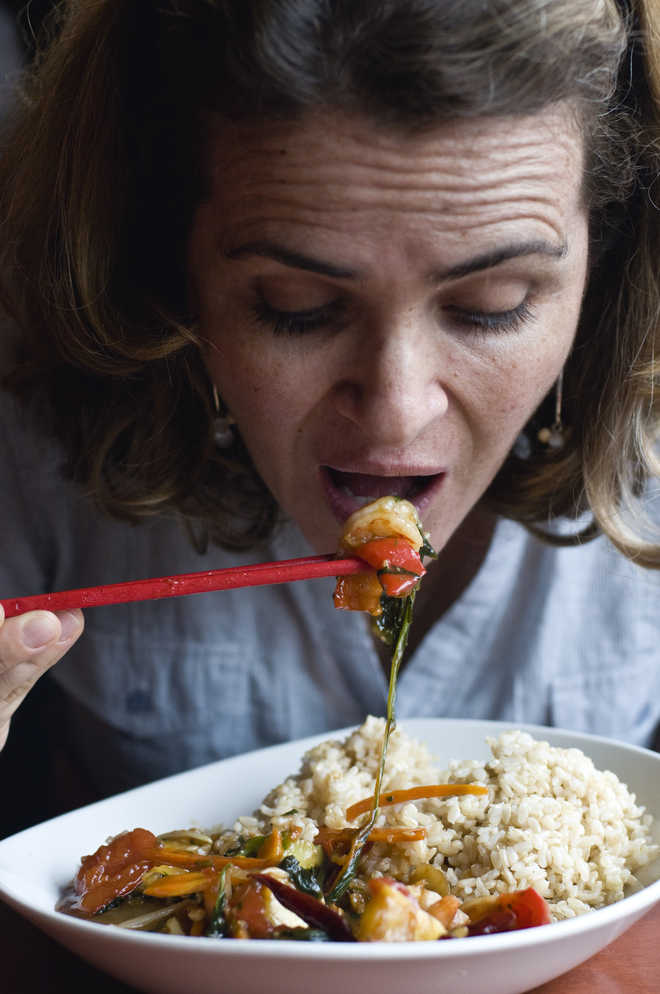 Renupreet Kaur
Mid-body fat or abdominal fat accumulation is a fat wrapped around waist and major organs like liver. One type of such fats, subcutaneous belly fat can be grasped with hands and its other type, visceral fat is a deep fat underneath the subcutaneous fat.
Mostly as one gets older, such kinds of changes occur due to slow metabolic rate or lifestyle changes. Mostly people accept it as inevitable part of life due to aging. But this is not a fact of life, rather this part of life is the challenging phase, which if taken with a sensible and brave face can lead one to a healthy life and fit body line. Combination of right diet and right exercise is the right step to tackle this visceral abdominal fat or subcutaneous fat accumulation.
But if not taken care of, its major consequences can be obesity and arthritis. Among women, breast cancer is another possibility as a major consequence of visceral fat. Obesity itself further leads to major health issues such as diabetes, hypertension and heart strokes. Therefore, while in 40s and 50s, dietary modifications are mandatory for everyone. Obesity being the main concern, one should be extra conscious for abdominal fat, for which besides exercise, right diet as follows, needs to be included in the daily intake.
Go complex
Eating complex carbs like brown rice, beans, lentils, whole grain bread and cereals over refined carbs as white ice, white breads is certainly better as these contain fibre that slows down digestion and are more fuller than refined ones. Therefore, for a balanced diet plan, fit in the right carbs at right time to prevent visceral fat storage. Make peas and potatoes, a part of the diet in a right way to prevent body fat storage.
Lean on proteins
Lean proteins like eggs, beans, seafood etc prevent body fat storage and create a fat burning effect. Proteins curb hunger and speeds up metabolism. Proteins are good to reduce visceral fat as they help the body to use more calories while digesting the food as compared to carbohydrates.
Avoid trans-fats
Foods rich in trans-fats like bakery items, chips, margarines, hot dogs, burgers, desserts etc need to be avoided if one wants to keep visceral fat at bay. One may include good fats like oil and seeds in one's diet plans. Add avocados, olives in daily diet plans along flax and sunflower seeds to see further better results.
Fibre is fruitful
Intake of fruit juices instead of whole fruits is also going to favour visceral fat. Intake of whole fruits along with their fibre content is good to tackle this situation. Avoid the consumption of sodas and packaged and processed foods. High fructose syrups or too much fruit intake should be avoided as these will rather add up on your visceral fats.Cook with coconut oil
If one is on a low fat diet, one should try to include coconut oil as a supplement. It can be included in dressings to salads or as cooking medium. One teaspoon of coconut oil to salads or sautéed veggies or tofus helps to ease out digestion and absorption of food. Adding up coconut oil in meal preparations and salad dressings make one feel full also.(Kaur is a Chandigarh-based dietician)
All readers are invited to post comments responsibly. Any messages with foul language or inciting hatred will be deleted. Comments with all capital letters will also be deleted. Readers are encouraged to flag the comments they feel are inappropriate.
The views expressed in the Comments section are of the individuals writing the post. The Tribune does not endorse or support the views in these posts in any manner.
Please enable JavaScript to view the comments powered by Disqus.