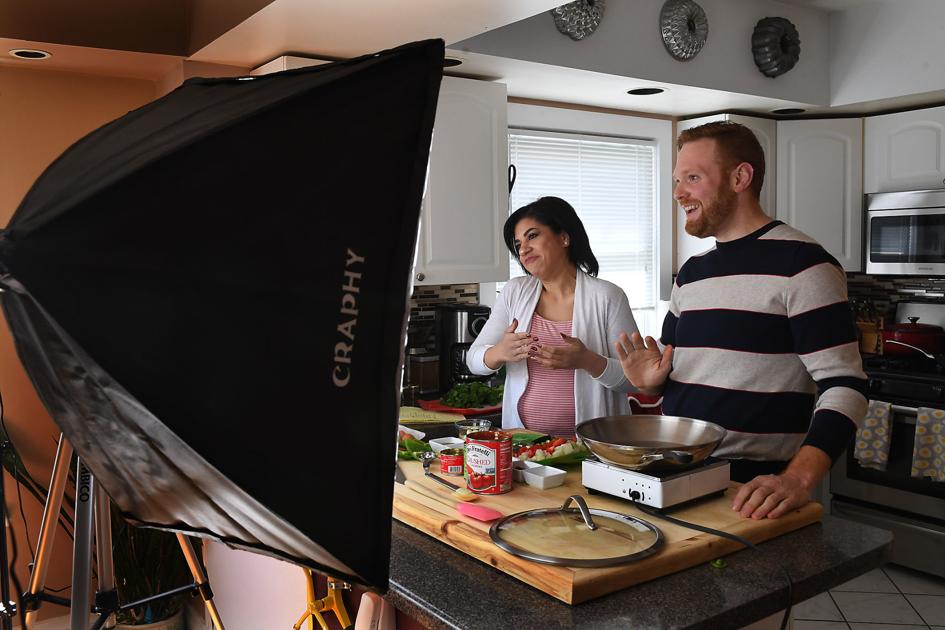 Weight loss never looked so tasty. Or like so much fun.
But for two local weight loss champs, Drew Rad and Justin Weber, it is both.
The Kenosha News first recounted their triumphs in a feature that ran on Aug. 29, 2017. At that time we reported how Rad and Weber had in the previous two years lost impressive poundage: Rad 250 and Weber 180.
Rad's weight loss journey involved exercise, portion control and stomach surgery.
Weber's key to losing weight was through an online food tracking app called Lose It! The app helped him track his calories and learn about the nutritive content of his food choices. After losing weight, he also became an avid bicyclist.
Following the article, the two met in person. They discovered that while their weight loss paths were different, they were both committed to:
Maintaining their weight loss.
Eating the healthiest foods possible.
Sharing their discoveries with as many people as they can.
Now the two are combining forces, forming a lively collaboration using technology and social media. In the past month, Rad and Weber have created and published two YouTube videos on healthy cooking.
"We capitalize on the fact we are different but both committed to maintaining weight loss and helping people," Rad said.
Even before they got together, Rad and Weber had enlisted technology and social media to let the world in on their "secrets" to weight loss; Rad sharing on YouTube, Weber posting his personal recipes and eating tips on Instagram and an online blog.
Along the way, both were called for interviews on television and newspapers. Weber, an English teacher at Washington Middle School, ended up on the "Today" show last July, and Rad, who works at a local bank, shared her story with the Daily Mail and on CBS Channel 58.
Sharing her journey, Rad created a YouTube channel, JustLikeDrew. On it she shared fashion and makeup tips as well as personal accounts of her weight loss. She refers to her 2,000 subscribers as the JustLikeDrew Crew.
Meanwhile, as Weber shed his pounds using the online app Lose It!, he shared his progress and new recipes in online blogs at Getting Healthy on Good Food.
When the pair met face to face, they realized that they had what it takes to create healthy food videos. Because Weber is the cook, they chose to use his kitchen as a studio.
On Feb. 11 of this year, they demonstrated Weber's One-Minute Vegan Chocolate Mug Cake. Their upbeat and informative video became a social media sensation, Rad said. "We had a blast, and said, 'Let's do it again!'"
This past Sunday they revisited the video kitchen to shoot Weber making Shakshuka, a one-pan tomato-and-egg dish with flavors of the Middle East and North Africa.
Their different personalities and kitchen experience provides an entertaining dynamic. Rad is irrepressibly bubbly, sharing her dearth of kitchen skills openly, honestly and lightheartedly.
Weber, the "relatable, fun middle school teacher," uses Rad's questions and observations as teachable moments.
When handed a knife and instructed to cut onions, Rad quips that this is out of her comfort zone, but Weber quickly shows her the best method to approach both knife and onion. He repeats the process when she's confronted with red and green peppers.
"What?! What?! Cutting green peppers, really?" exclaims Rad. "It's a 'no excuses' lifestyle with this guy!" Rad says to the camera. She then suggests they do a future video just on cutting vegetables.
"Great idea — a piece on knife skills could be really useful!" answers Weber.
In a little over 20 minutes, the two have assembled a pan of low-calorie, low-cost Shakshuka, a meal which can be adapted as a breakfast, brunch or dinner.
As they wrapped the shoot, they took a few photos to post online. "All of these colors, they're total 'Instagram bait!'" Weber quips.
The concept is to show that healthy food can actually taste good, Rad said. Recipes also have to be "doable" for novice cooks. "You can't spend all day cooking," Rad said.
They embrace the fact they aren't professional television chefs, even relishing mistakes in real time. "We don't mind making a mess to show people it's part of the fun," Rad said. "So what if your mud cake blows up? Send us pictures of it!"
Helping others to lose or maintain their weight is a priority for both of them. "It's about, 'How long can we help keep you here on the planet?'" Rad said.
The two believe that they are effective role models on several levels. "We are a man and a woman who both lost weight, so people can relate to us," Rad said.
Also, because they both lost weight, there is no attitude of judgment from either of them, she said. "We are approachable: when you are in 'Justin and Drew Land' you're in a judgment-free zone!" Rad said.
While Weber's method to maintaining his weight is to create a variety of healthy foods, Rad's approach is portion control and exercise. A self-admitted non-cook, Rad has been impressed with Weber's ability to create healthy food that tastes good, too.
"A lot of times diet foods don't taste good, but I can trust Justin," Rad said.
Joked Weber, "I know how to eat, I'm a professional eater!"
The two plan to continue to produce educational videos, from cooking demos to visits to the grocery store to model healthy food purchases.
"Justin gives people opportunities to have variety; he can show people ways to reinvent foods; that's why it's so great to work together," Rad said.
"Our goal is show people that cooking is enjoyable, sustainable and something you can do every day," Weber said.
SHAKSHUKA
Recipe and commentary from Justin Weber
Calories per portion per Lose It! app: 135 (with one egg per serving)
Shakshuka is by far my favorite thing to make and eat, because it's loaded with flavor and it's very low calorie while being filling and satisfying. It is a Middle Eastern and North African dish that is traditionally a breakfast food. It is one of those meals that everyone has their own recipe, and it can range from sweet to spicy to smoky. I have friends who add in chicken or serve over meat. Traditionally the eggs are poached and runny and you'd eat family style by dipping bread into the pan. It's great over rice, couscous or quinoa.
This whole meal goes into one pan on the stove top. You'll need a lid for the final step.
1 medium onion, diced
3 cloves garlic, finely chopped
1 green pepper, diced
1 red pepper, diced
1 jalapeno, cored and diced (can be omitted)
28-ounce can crushed tomatoes (I've liked using the fire roasted kind.)
2 tablespoons tomato paste, depending on how thick you want your sauce
2 bay leaves
1 teaspoon chili powder
1 tablespoon ground cumin
1 1/2 tablespoons paprika (I use Hungarian.)
1 teaspoon sugar (The sweet helps cut the acidity of the tomato.)
1 to 2 teaspoons salt
1 teaspoon ground black pepper
2 tablespoons finely chopped fresh cilantro
2 to 4 tablespoons feta cheese (This makes it awesome.)
As many eggs as you want to serve
Saute the onion, garlic, green pepper, jalapeno and bay leaves until soft. You could omit the jalapeno if you don't want any heat, but it adds to the flavor.
Add in the tomato paste and cook for 2 minutes. Add all of the spices and cook for 1 minute. Carefully pour in the crushed tomatoes and be careful not to splatter, since your pan will be hot. You can add some of the cilantro to the sauce now or wait until the final step.
Cook tomato sauce for 10 minutes on a low heat. Remove bay leaves.
Now for the fun part. Your sauce will be thick by this point. With a spoon, make a well for each egg starting on the outside area. Crack your first egg and slowly fill the well. Repeat for each egg.
Cover your pan and cook on low heat until your eggs are poached to your desired consistency. I like mine a little runny but you can cook until completely solid.
Remove from heat and sprinkle top with cilantro and feta. Serve any way you like! Traditionally you'd eat this out of the pan with bread, but it's also good on couscous, rice or just in a bowl with a spoon.
ONE-MINUTE VEGAN CHOCOLATE MUG CAKE
Recipe and commentary from Justin Weber
Calories per portion per Lose It! app: 236
This quick treat is great for those with a sweet tooth who want their chocolate but don't want the temptation of a full cake in their house. You can make this mug cake vegan, gluten free or just health-conscious.
3 tablespoons oat flour (or whole wheat or all-purpose)
1 1/2 tablespoons cocoa powder
1 teaspooon coconut oil, melted (Can use canola, margarine, or butter.)
1 teaspoon maple syrup (real syrup)
1/4 teaspoon baking powder
1/4 teaspoon vanilla extract
Pinch of salt
2 tablespoons milk (cow, soy, almond, etc.)
Mix all together in a measuring cup or small bowl and pour into desired mug. Microwave for 1 to 1 1/2 minutes.
TOPPING (optional)
2 teaspoons cocoa powder
1 teaspoon maple syrup
1 to 3 tablespoons milk
Mix together and drizzle on top of cooked mug cake.