Asking for help from friends and family and then engaging with your new community will get you through the transition.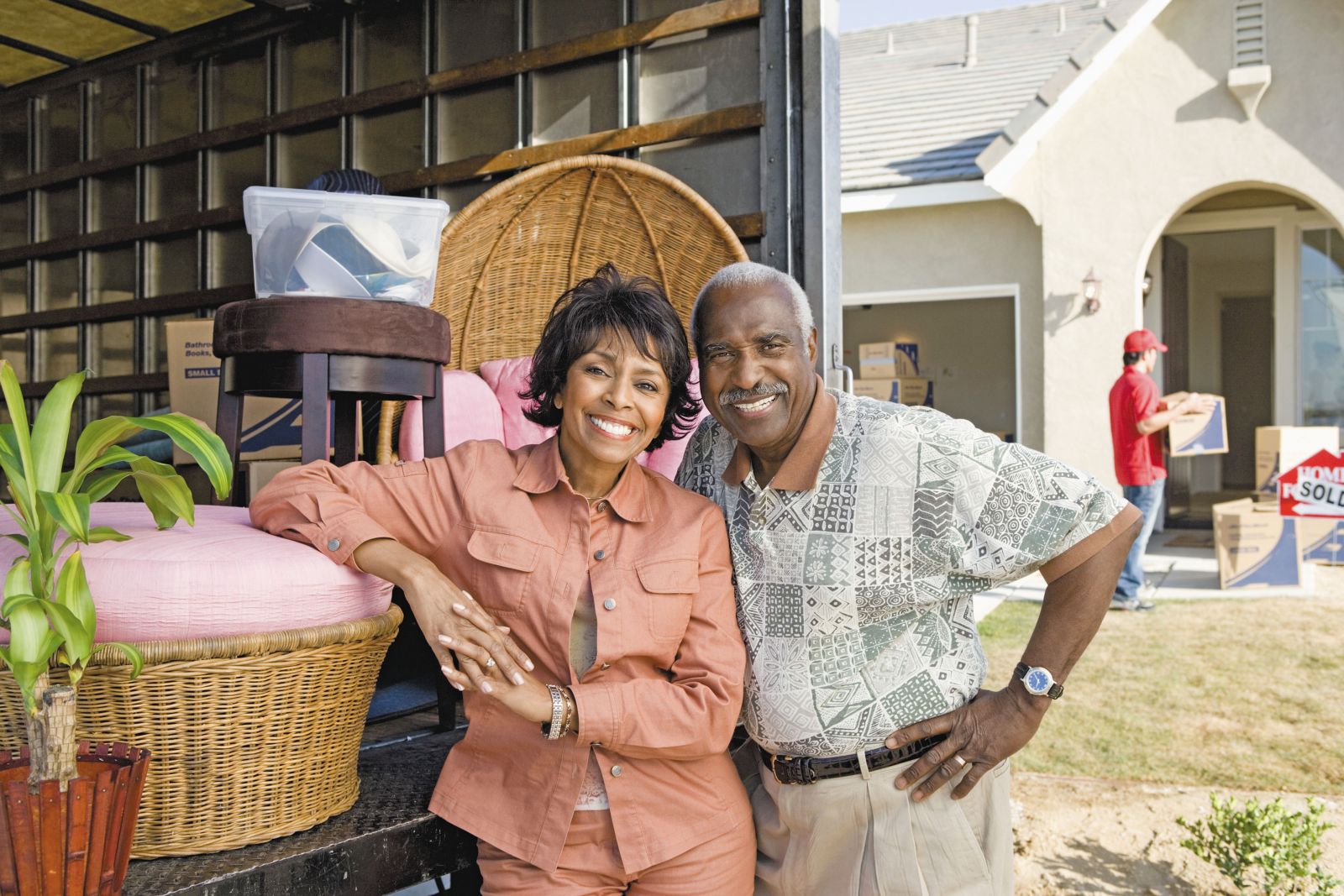 Image: © IPGGutenbergUKLtd/Getty Images
Downsizing from a large home to a smaller one is a fact of life for many older adults. The reason may be finances, health issues, or a desire to simplify your lifestyle. But making the transition can bring a host of emotions: sadness, grief, stress, or anxiety.
Understanding the triggers for these feelings and using strategies to navigate them may not change how you feel, but it may help the downsizing process go more smoothly so you can focus on your next chapter.
Sadness or grief
There are many reasons why downsizing can make you feel sad, even when you know a move is for the best. For example:
you don't want to leave (even though it's necessary)

you've lived in your home for a long time and are emotionally attached to it

there may not be enough space in your next home to bring all of your possessions

you may have to say goodbye to a familiar neighborhood and good friends.
Feeling sad for any of these reasons is normal, explains Dr. David Mischoulon, director of the Depression Clinical and Research Program at Harvard-affiliated Massachusetts General Hospital. "Letting go of your home and your belongings can feel like you're letting go of a particular part of your life. There's a realization that you can't get the past back," he says.
You may even experience grief when you downsize, especially if you've recently lost a spouse or partner. "If you're newly widowed, it's actually recommended that you defer moving for a year if possible, to settle down emotionally rather than go through another loss so soon," says Dr. Mischoulon.
Tips to cope: If you're feeling sad about your move or about letting go of possessions, understand that you're going through a process of mourning. "It's not a sign of weakness or mental illness. Know that it will pass, and not much is needed to be done except to stay connected to friends and family and talk about your feelings," Dr. Mischoulon says.
He also recommends that you engage with your new community. "Make your new home as pretty as you can, so it will be a happy place to live in," he says. "Find activities that interest you. Join clubs. Volunteer."
Staying socially connected is as important as taking medicine. Maintaining meaningful social relationships makes people happier. Volunteering is associated with mental well-being.
Isolation and loneliness, however, are associated with a decline in thinking skills and longevity, and an increased risk for developing chronic health problems, such as heart disease.
If your emotions are interfering with your ability to get through your day, speak with your primary care doctor, who can screen you for depression. You may also consider speaking with a therapist.
But don't rush the grieving process. It may take a few months or longer to feel better, and there's no way to predict how long your experience will last.
Stress
Moving is stressful, no matter how old you are. There are belongings to pack, rooms to clean, papers to sign, and deadlines to meet. Plus, you have to figure out what to bring (and what will fit) in your new, smaller home, and what to do with the things that won't be moving with you. It's an enormous job if you've accumulated a lifetime of "stuff."
"When you're 70 or older, you don't have the same organizational or coping skills you had at 30. You can get easily overwhelmed and feel tasks are impossible," Dr. Mischoulon says.
The feeling of being overwhelmed is a type of stress, and it's not good for your health. It can worsen existing health conditions, such as allergies and diabetes. Prolonged (chronic) stress increases the risk for heart disease, high blood pressure, heartburn, and many other health problems.
Tips to cope: Enlist as much help as possible, particularly if you're daunted by whittling down your belongings. Ask friends and family to help, or — if you can afford it — hire a professional: a consultant or a company that specializes in downsizing households. Prices vary, ranging from a few dozen to a few hundred dollars per hour. The National Association of Senior Move Managers (www.nasmm.org) offers a tool to help you find pros in your area.
Nonprofit groups such as Goodwill can come and haul away (for free) furniture and other belongings you'd like to donate to charity.
3 healthy upsides of downsizing
Feeling sad about leaving your large home for a smaller one? Focus on these health benefits:
A lower physical burden. Moving into a smaller space may reduce the amount of yard or house work on your to-do list.

A safer environment. If you're moving from a two-story home to a one-story house or apartment, you'll remove a major fall hazard: stairs. Falls are the No. 1 cause of injuries and deaths from injury among older adults.

Fewer decisions. Paring down your belongings so that they fit into a smaller space will force you get rid of clutter, and make only the most necessary objects and clothing readily available. That will help to simplify your choices about what to wear or which kitchen utensils to use, which is especially helpful for people whose thinking skills are declining.
Anxiety
Anxiety can creep into the downsizing process when you're worried about the unknown. "It could be the costs that are involved or whether you'll like the new place and make friends. The uncertainty is anxiety-provoking," Dr. Mischoulon says.
Anxiety may also come into play when you're trying to determine which belongings to keep and which to leave behind. You may not want to let go of possessions with sentimental value, or you may fret about how well the items you give away (like family heirlooms) will be cared for. Or you may simply be reluctant to give up useful objects. "If you've lived through tough economic times in the past, there may be an element of wanting to hold on to things because you may need them one day," Dr. Mischoulon explains.
Tips to cope: Dr. Mischoulon recommends keeping things based on practicality and whether the item brings you happiness. If it doesn't, he suggests that you part with it.
It may ease your worries if you can pass on your belongings to your children. "But let them decide if there's anything they'd like to keep for the long term. If there isn't, it's all the more reason to let go of something," Dr. Mischoulon says.
Another way to part with belongings: pass them on to charities. There's satisfaction in knowing that your donation will benefit others.
And when it comes to worrying about how you'll cope in the next phase of life: You didn't have all the answers when you were young, and you may not have them now. But if you make an effort to be active and engaged in your new community, you may find that this next stage will offer plenty of interest and fulfillment.
Subscribe to Harvard Health Online for immediate access to health news and information from Harvard Medical School.
<!–
–>