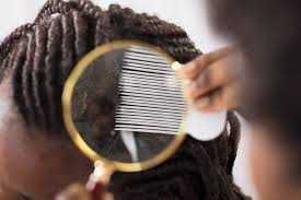 Some time ago I had a discussion with a friend about head lice. Her daughter was being picked on at school because she became infested with head lice. They said she was dirty, she didn't wash her hair and she should not be in school. And she may have to cut all her hair off. I assured her none of these statements were true.
The U. S, Center for Disease Control estimate that six to ten million individuals are infected with head lice annually. In some areas, the level of infestation can be as high as 40 percent among children. Head lice are tiny, wingless insects that are generally about a sixteenth of an inch long, about the size of a sesame seed. They are grayish-white to tan in color. Most people think that head lice affect only people that have poor personal hygiene. When actually, head lice prefer a clean host, so even those who bathe regularly may get them. Head lice have been affecting man for ages. Lice have been found attached to the hair of Egyptian mummies, pre-Columbian Indians from Peru and prehistoric Indians from the American southwest.
An infestation of lice occurs when one of three types of lice invade the body and clothing. Lice are parasitic insects that feed on human blood and can infest the head, body, and pubic area. There are three types of lice that infest humans: body louse (Pediculus humanus corporis), head louse (Pediculus humanus capitis) and pubic louse (Pthirus pubis). Lice eggs are called nits. Baby lice are called nymphs. Louse is the plural of lice.
So how do we get head lice since lice cannot fly or jump? They are transmitted primarily by direct contact with an infected person, sharing combs, barrette, scarfs, hats, headbands, towels, stereo headphones, swimming caps or other personal items. Head lice can survive 20 to 48 hours without a host. Direct contact accounts for about 90 percent of all infestations. Pets don't get head lice and spread them to people.
What should you look for? You should be suspicious if your child scratches his head frequently. The bite from head lice is irritating to the scalp. Louse don't spread disease but the bite can cause itching and redness. The scratching can lead to infection. While an itchy scalp is the most common symptom of head lice, not everyone with head lice gets itchy. Itchiness happens only in people who are allergic to head lice saliva. A crusty infection on the scalp may develop. A careful inspection will require a bright light and a magnifying glass. Since lice are quite fast, you should look for its eggs, which are usually attached to your hair. The eggs can be yellow to tan in color. You should concentrate your search around the ears and the nape of the neck. Lice need human blood to live. Head lice left on your blankets or pillows will die within 48 hours without a human host to feed on. It takes about eight or nine days for head lice nits to hatch.
If either louse or eggs are found, you can treat with special shampoo, cream or lotion that contains 1 percent permethrin until the infestation is completely gone. To remove eggs, you should shampoo the hair in warm water and then comb the eggs out with a fine-tooth comb while the hair is still wet. You can even give younger kids haircuts to make the process easier. To prevent their spread, everyone infested should be treated at the same time. It's also important to wash all bedding and dry them in a hot dryer for at least 20 minutes on high.
You should vacuum your mattresses and upholstered furniture. Items that are not washable should be thrown away. You should Iron or dry-clean clothes that can't be washed. Seal stuffed animals and pillows that can harbor lice in plastic bags and keep them out of the reach of children for at least 20 days. You should either buy new combs, curler and brushes or boil them for at least 20 minutes. If your child has repeated infestations of head lice try a mixture of 50 drops of tea tree oil in two ounces of warm olive oil. After covering the hair and scalp cover your head with a shower cap and a hot most towel for two hours.
Then rinse the hair well and comb out the eggs and the lice with a fine toothcomb. The treatment is an involved process that must be followed to completion to prevent the infestation from affecting the whole family. Most over the counter treatments will work if you follow directions. Talk to your doctor to get the best treatment.
If your child is 2 months old or younger, don't use a medicated lice treatment. You'll need to remove the nits and lice by hand. To remove lice and nits by hand you should use a fine-tooth comb on your child's wet, conditioned hair every 3 to 4 days for 3 weeks after the last live louse was seen. Wetting your child's hair is recommended because it temporarily immobilizes the lice and the conditioner will make it easier to get your comb through the hair.
Don't buy electronic combs that claim to kill lice or make nits easier to remove. There are no scientific studies to prove these claims. Don't buy special vinegar solutions to apply to the scalp before picking nits because vinegar will not improve your outcome. Water will work just fine.
Wet combing can be an alternative to pesticide treatments in older kids. Petroleum jelly, mayonnaise, or olive oil are sometimes used in an attempt to suffocate head lice, these treatments may not work. There are no scientific studies to prove these claims either. If medicine doesn't work and you want to try these methods, talk to your doctor first.
Scratching may cause more serious problems. Small red bumps or sores from scratching can develop. The irritation is mild for some kids. For some kids it can a more serious rash may develop. Excessive scratching may also lead to a bacterial infection. This can cause swollen lymph glands and red, tender skin that might have crusting and oozing. If your doctor thinks this is the case, they may treat the infection with an oral antibiotic.
Check with your child's school nurse or daycare center director to see if other kids have recently been treated for lice. Lice are highly contagious and can spread quickly from person to person, especially in-group settings like schools, daycare centers, sleepovers, sports activities, and camps. If this is the case, find out what steps they are taking to get rid of the problem. There should be community wide effort. If you discover that your child does have lice contact the staff at the school or daycare center to let them know. Find out what their return policy is. Most usually allow kids to return after one topical treatment has been completed.
It's almost impossible to prevent the spread of head lice among children in childcare facilities and schools because there is a lot of close contact.
It is a good practice for children to hang their coats on a separate hook from other children's coats and not to share combs, brushes, hats and scarves. You should also consider not sharing protective headgear for sports and bicycling.
To preventing reinfestation here are some simple ways to get rid of the lice and their eggs, and help prevent a lice reinfestation:
Wash all bed linens and clothing that's been recently worn by anyone in your home who's infested in very hot water (130°F [54.4°C]), then put them in the hot cycle of the dryer for at least 20 minutes.
Dry-clean anything that can't be washed (like stuffed animals). Or put them in airtight bags for at least 3 days.
Vacuum carpets and any upholstered furniture (in your home or car), then throw away the vacuum cleaner bag.
Soak hair-care items like combs, barrettes, hair ties or bands, headbands, and brushes in rubbing alcohol or medicated shampoo for 1 hour. You also can wash them in hot water or just throw them away.
Because lice are easily passed from person to person in the same house, bedmates and infested family members also will need treatment to prevent the lice from coming back.
Anyone can become infested with lice, but you can reduce your risk of contracting them by following a few guidelines. First, encourage your child to avoid sharing combs, brushes and other personal items that can easily carry and transmit lice. Next, if possible, have your children sleep in separate beds. If your child has long hair, you should keep their hair in braids or a ponytail to help reduce head to head contact. Finally, if your child does get head lice, don't panic. Head lice are not a serious affliction. Start treatment immediately.
You should always seek profession medical help with any lice infection. A health care professional should evaluate very young children before beginning medications.
Do kids have to stay home from school if they are infected with lice? In most cases, a child who has lice can stay at school until the end of the day. They should get treatment, and return to school the next day. While at school, kids should avoid head-to-head contact with other kids.
Head lice are not a sign of dirtiness or poor hygiene. These little bugs can be a problem for kids, adults on any socioeconomic levels, no matter how often you do or don't wash your hair or bathe. It also doesn't matter how long or short your hair is.