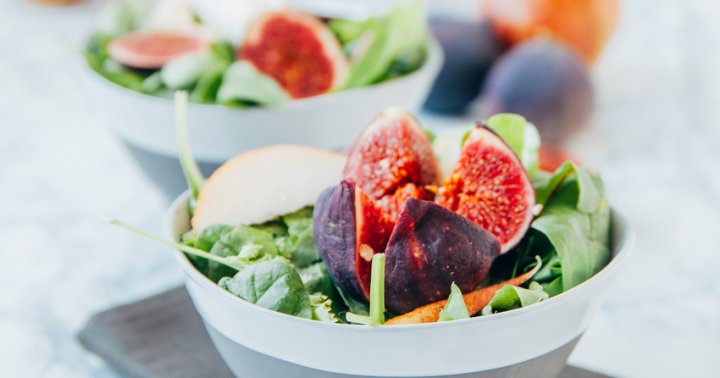 While I custom-design The Cyclitarian Plan for every patient in my practice, this typical day from a middle-age male provides a good example of the diet in action:
7 a.m.: Black coffee or green tea (my preference). On mornings he felt especially hungry, we added MCT oil and grass-fed ghee (better for people who may be dairy-sensitive) into his morning beverage to keep him in ketosis.
Noon: A big salad topped with high-fat foods like grass-fed beef, walnuts, olives, and extra-virgin olive oil.
Afternoon snack: Macadamia nuts, sprouted almonds, or olives.
7 p.m.: Wild-caught salmon, spinach sautéed in coconut oil, side of herb greens dressed with olive oil and lemon juice, then berries for dessert. (Many patients find even with a ketogenic diet, they can fit a glass or two of very dry red wine into two to three dinners per week while staying in ketosis. On nights before big workouts, we allowed a serving of an energy-dense, complex carb, like sweet potato or butternut squash, to build muscle glycogen stores to help power his workouts.)
Under that schedule, he stopped eating at 8 p.m. for the evening. If he felt like having something later in the evening, he stuck to unsweetened herbal hot teas. Like many patients, he stayed full and focused throughout the day, avoiding the energy-robbing spikes and crashes high-carbohydrate diets can create, including that post-lunch energy slump. He didn't dwell on food as much, and he enjoyed it when he ate.
With some minor tweaks, The Cyclitarian Plan can work for a wide range of people. What I believe proves most practical about this hybrid plan is its flexibility. You could mix up your fasting schedule and you can stay in ketosis five days a week while incorporating higher-carbohydrate "cheat" foods the other two days (like on the weekends). Of course, always talk to your doctor before starting a new diet program of any sort to make sure its suited for your individual makeup!
Want to know more about the benefits of intermittent fasting? Here's the scoop.