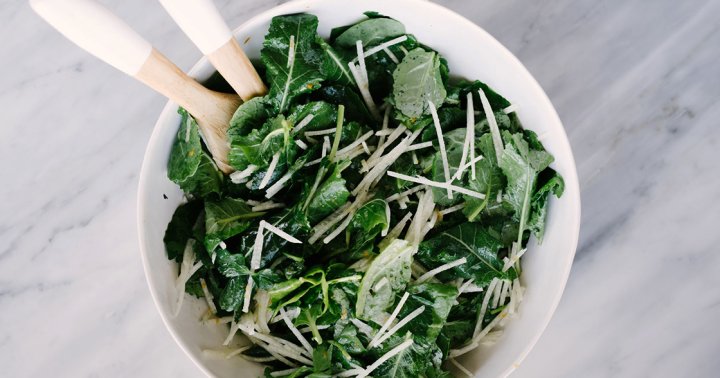 Maria Koutsogiannis is the founder of the blog FoodByMaria and the author of the new cookbook Mindful Vegan Meals. After years of struggling with an eating disorder, she found that food could be her medicine and realized "food is your friend." Once she was able to take the fear away from food, she started to develop recipes that nourished her body and made her feel good from the inside out.
Her spin on the classic Caesar salad swaps bread croutons for homemade lentil croutons, high in insoluble fiber, which helps improve digestion, and high in soluble fiber, which helps stabilize blood sugar and reduce blood cholesterol, contributing to greater heart health. On top of that, lentils are high in protein and can boost metabolism.
The innovation doesn't stop there. This kale Caesar also includes coconut bacon, high in good-quality fats like avocado oil, and cashew dressing, high in magnesium, which also supports a balanced blood sugar. We hope this twist on your favorite classic reignites your love for Caesar salads.