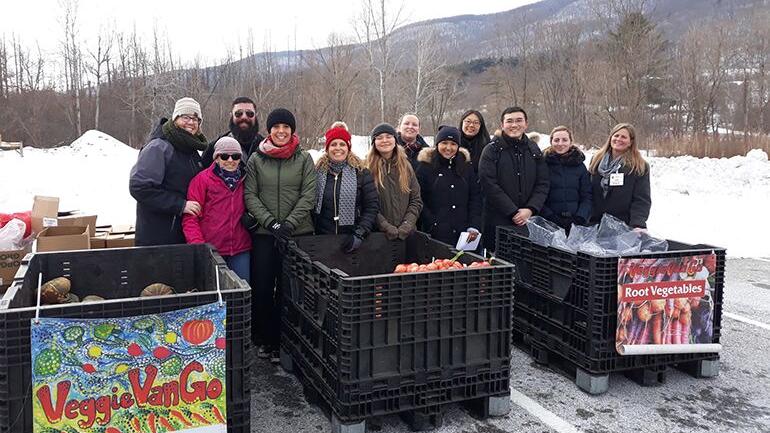 BENNINGTON — Seven Bennington College students have been awarded internships with local organizations that seek to improve public health, particularly by alleviating food insecurity.
The students — who are scheduled to graduate between 2021 and 2023 — are undertaking the work as the first participants in the Food Insecurity and Population Health Fellowship.
Bennington College has partnered with four Bennington organizations in the new internship program: Southwestern Vermont Medical Center, Greater Bennington Interfaith Community Services, Southwest Vermont Supervisory Union and Meals on Wheels of Bennington County.
The internships, which are fully paid, will begin Jan. 4 and run till Feb. 12. They were awarded following an application and evaluation process.
Population health and food insecurity have been focuses of Bennington College's Center for the Advancement of Public Action, which is in the second year of a three-year grant from the Andrew W. Mellon Foundation to collaborate with local groups in addressing the systemic causes of food insecurity in Bennington County. The Mellon Foundation grant will fund five of the fellowship positions.
"This fellowship represents the best of community partnerships," said Faith McClellan, Bennington College's associate dean of work-integrated learning. "Our students gain valuable work experience in high-demand health care fields, while offering a range of skills and global perspectives to SVMC and our other community partners."
The fellows include five international students, who hail from Nepal, the Netherlands, Norway, South Korea and Swaziland.
Because of the pandemic, the internships will be conducted virtually, said Bennington College spokeswoman Natalie Redmond.
Last year, Bennington College offered a Population Health Fellowship in partnership with SVMC.
Under the food insecurity-focused Mellon Foundation grant, the college had earlier established internships at GBICS, SVMC and SVSU.
This year, these partnerships were combined to create a new, expanded fellowship program focused on both population health and food insecurity.
The college said population health transforms the health care model, which includes seeing patients only when they are sick as well as partnering with people to address their social, environmental and economic issues before they become sick.
Food insecurity, meanwhile, affects one in eight Americans, or approximately 40 million people. The problem is particularly acute in southern Vermont.
The fellowsJacqueline De Loos '22 will work with SVMC in the role of Opioid Response & Social Determinants of Health Advisor. De Loos will work with Kristi Cross, Director of Bennington Blueprint for Health, and Alex Figueroa, BluePrint Care Coordinator, on implementation and evaluation of Bennington's Community Action Grant, involving various community-wide strategies to address opioid use in the Bennington Health Service Area.
Stephanie Hernandez '22 will work with Greater Bennington Interfaith Community Services in the role of Food Insecurity Intern.
Hernandez will work with GBICS Director Scott Winslow in support of work serving people living in and near poverty, including advancing access to food, shelter, and health care.
DaEun Jung '21 will work with SVMC in the role of Food Security and Wellness Trailblazer. Jung will work with Tiffany Tobin, SVMC's Director of Hospitality Services, and Rory Price, SVMC's Director of Volunteer Services & Community Engagement, to help create, sustain, and evaluate collaborative programs to educate, feed, and support the community, along with many organizational partners.
Sizo Lukhele '22 will work with SVMC in the role of Population Health Community Resilience Coordinator. Lukhele will work with Jim Trimarchi, SVMC's Director of Planning, and Lindsay Spitz, Community Health VISTA, to leverage healthcare data in support of a community health needs assessment, advanced healthcare payment models, and projects focused on community resilience.
Cassidy Skarka '22 and Mohit K C '23 will both work with Southwest Vermont Supervisory Union in the role of Food Insecurity Interns. They will work alongside teachers and administrators in Bennington's K-12 school district to develop and implement primary resources and activities to support the nutrition curriculum to address local food insecurity.
Kunlek Tamang '22 will work with Meals on Wheels of Bennington County in the role of Food Insecurity Intern. Tamang will work with Ilsa Svoboda, Executive Director of MOW of Bennington County, on programs that advance access to nutritious and healthy food for senior citizens and people with disabilities.