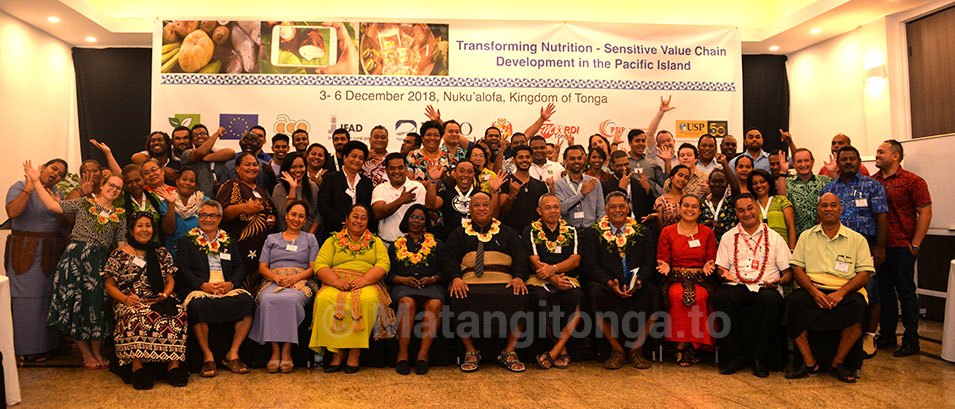 By Linny Folau
Finding ways to increase poor rural people's access to healthy food is one of the aims of a regional meeting held in Nuku'alofa, Tonga, yesterday. The "Transforming Nutrition Sensitive Value Chain Development in the Pacific Islands" meeting aimed to strengthen the capacity of Pacific Islands governments, farmers and private sector organizations to develop strategies and mobilize funding that can increase poor rural people's access to healthy food.
It is one of three related events held in Nuku'alofa this week by the Technical Centre for Agricultural and Rural Cooperation in collaboration with the International Fund for Agricultural Development (IFAD), Pacific Islands Private Sector Organization (PIPSO) and MORDI Tonga Trust under the framework of a seven-country project called, Promoting Nutritious Food Systems in the Pacific Islands.
These events are designed to foster exchange and share state of the art knowledge on effective interventions and innovations led by governments, private sector and community based organizations "for accelerating transformative change in support of nutrition sensitive value chain and agribusiness in Pacific Islands States."
Minister for Internal Affairs Hon Losaline Ma'asi said it was important to educate our people about the benefits of utilizing our natural resources and limiting access to imported products.
She said we are all here working for the betterment of our communities and people and together push for improved income and health outcomes by utilizing our local and natural resources that should readily be available in our homes, communities and out in our farms and thus improve the future for our people.
Lord Vaea in his keynote address as estate holder of Houma and chairman of its Town Council said this event binds Pacific Island communities, government ministries, international partners, community based partnership, financial institutions with the general welfare of the Tonga families.
He said the value chain of development for village farmers and fishermen included promoting and cooperating collective partnership, training, banking, communications, transportation and finance.
"It is by no means an easy task, the hurdle of filling forms, assets and property deeds are foreign oriented and requires formalities that outcasts the indigenous farmer and fisherman," he said.
"I am supportive of the introduction of a rural/fishing communities, providing essential training for the farmer and fisherman. When training becomes low priority, the likelihood of the farmer planting illegal crops will increase, flouting the rural/fishing community's stability, families, youths and law abiding citizens."
He also noted the effect of Non-Communicable Diseases on the Pacific, generally has caused high number of deaths, which is tragic for small populations.
"Too often Pacific Islanders are reliant on imported goods due to the changes in attitude and education. Local food and fish is expensive to buy, so noodles and rice [are seen as] a better option to eat daily, and far cheaper.
"With better cooperation and education the indigenous farmer and fisherman will be encouraged to continue to farm in accordance with seasonal changes," he said.
Local produce
Local farmer and exporter, Minoru Nishi said Pacific Islands are not a commodity, and that we are a paradise and should rely more on our natural abilities to farm our own produce since 60-70% of our food is imported.
He said life expectancy for our people here in Tonga had decreased to 64-years which is very young compared to the Japanese whose life expediencies are over 100 years old and that is due and comes down to people's attitudes, lifestyle choices and habits.
"NCDs are a big issue and one of the many challenges we face, not only here in Tonga, but also Pacific wide in regards to the dependency we have on imported foods since it is easier for people here in Tonga to buy fast-access and prepare imported foods such as noodles and rice from a shop rather than go out and get fish to prepare for a meal,' he said.
Other events being held included a Tonga National Roundtable, Developing Local Food Crops and Fisheries Value Chains and Pacific Agri-Hack_Lab – ICTs from Farm to Table, attended by representatives from various Pacific Islands.