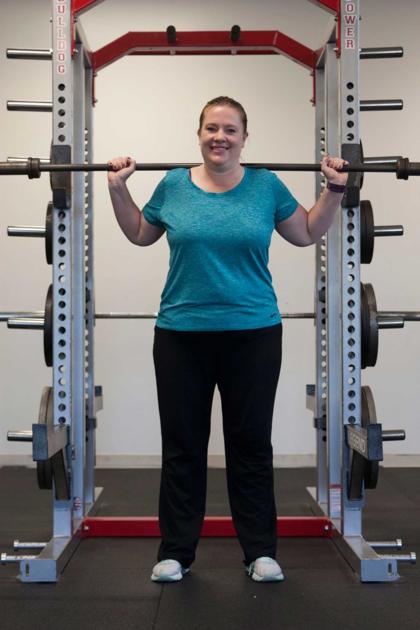 #ndn-video-player-1.ndn_embedded .ndn_floatContainer margin-top: 10px; margin-bottom: 20px;
#ndn-video-player-2.ndn_embedded .ndn_floatContainer margin-top: 10px; margin-bottom: 20px;
When she was 16, Lisa Tolles weighed 125 pounds. Over the next 25 years, as she married and raised three children, she slowly put on weight. Last summer, at age 42, she weighed in at 334 pounds.
In the last 13 months, she has lost 110 pounds and is working to lose 50 more. "I can't believe how amazing I feel," she said.
The decision to diet came during a family vacation to Mount Rushmore National Park in 2016. When her family hiked, she stayed inside. "I couldn't hike," she said. "I had back pain, knee pain, spinal stenosis, arthritis and sleep apnea."
Watching her family through a window, she vowed then and there to lose weight. Her first grandchild was on the way, too, and she wanted to be a healthy grandmother.
As soon as she returned home to Pleasanton, Tolles saw her doctor and a dietitian at CHI Health Good Samaritan. She also did online research and devised a weight-loss menu. For breakfast, she had eggs, plain Greek yogurt and fruit. For lunch, she had a simple turkey sandwich. For dinner, she ate salmon, chicken, salads or eggs. Once a week, she treated herself to beef.
She discovered that she liked vegetables ("before, I didn't want to eat them") and began eating four servings every day. She cut out carbonated beverages and tea and limited her beverage intake to water. She drank 24 8-ounce glasses a day. Three to five times a week, she walked two miles (24 laps) in the turtle pool at the Good Sam fitness center.
Immediately, she saw results. She lost two to three pounds a week. "That encouraged me. I felt better right away," she said.
Three months later, she began lifting weights and running on the treadmill nearly every day at the new fitness center at Pleasanton School. At home, she worked out with a Pilates video. "I used to hate to sweat, but now it feels good," Tolles, who provides home daycare, said.
Nine weeks into her diet, her doctor took her off her blood pressure and cholesterol medications and scrapped plans to put her back on her antidepressant. "I will always have arthritis and spinal stenosis, but as long as I keep moving and losing weight, I should keep feeling better," she said.
As for holiday feasts, Tolles was a bit anxious, but "that was much easier than I expected," she said. "For Thanksgiving, I had a piece of pie, but the dietitian had told me that if I want a treat like that, I had to plan for it. I'd eat less in the morning if I knew I'd be eating heavier later."
Her biggest cheerleader has been her husband Randy. He bought her a waterproof Garmin Vivosmart HR to track her steps. As he worked out with her at the school fitness center, he lost 60 pounds himself. "He helped me learn how to exercise properly. He helped me set and accomplish new goals. He has never given up on me. He continues to tell me I'm beautiful," Tolles said.
When her willpower sags, as it sometimes does, she texts several close friends. Her children are proud of her, too, including son Travis, 17, the last of their three children still living at home. "We do more as a family now. We've become very close," Tolles said.
As Tolles lost weight, she gained self-confidence. Before, she wouldn't take a walk. She wouldn't go to the movies because she had a hard time squeezing into the seats. She'd skip weddings because she felt out of place.
Those days are gone. Over the summer as she helped her daughter move, Tolles lifted heavy boxes and scrambled up and down stairs, "all the while feeling great," she said. "I'm strong enough now to lift myself out of the bathtub."
Since slimming down to a size 16 from a size 24/26, she has treated herself to a new wardrobe. "That was the fun part," she said.
The biggest lesson she's learned over the past year is that good health is a lifelong commitment. "I used to try dieting for a month, but then I'd give up," she said. She'd lose 15 or 20 pounds, stop dieting and quickly regain those and more. She had failed with several well-known diet plans, too. This time, she was determined to make it work.
As Tolles works to lose her final 50 pounds, she realizes that she's become a role model. "If I can touch just one person and give them a ray of hope, my hard work will be worth it," she said.
#ndn-video-player-3.ndn_embedded .ndn_floatContainer margin-top: 10px; margin-bottom: 20px;