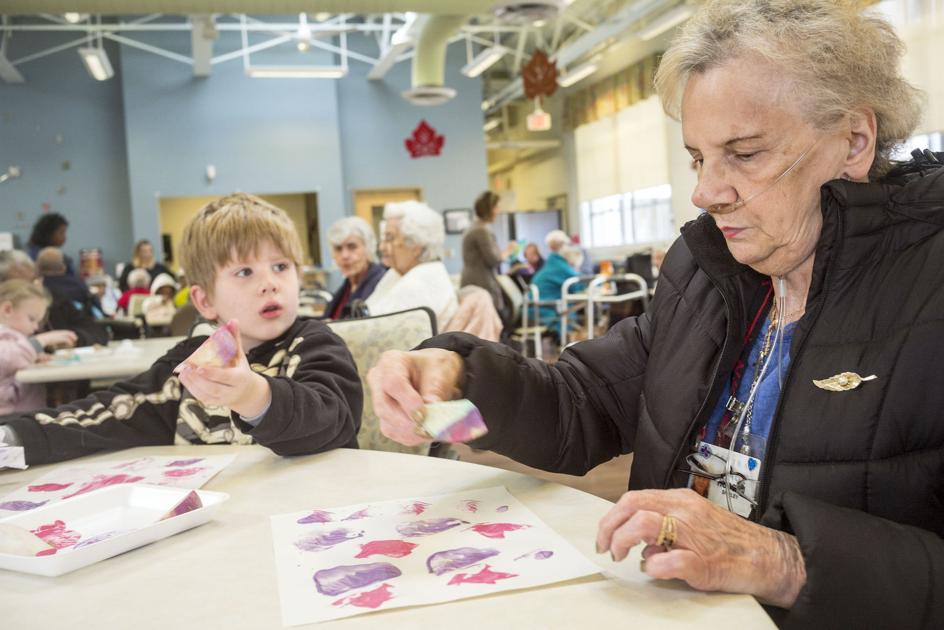 #ndn-video-player-1.ndn_embedded .ndn_floatContainer margin-top: 10px; margin-bottom: 20px;
#ndn-video-player-2.ndn_embedded .ndn_floatContainer margin-top: 10px; margin-bottom: 20px;
On Wednesday morning, White Rock Head Start students and seniors painted together — with turnips.
They were participating in a program called "Food for Long Life," a project of Virginia Tech's Virginia Cooperative Extension, at Centra's Program of All-inclusive Care for the Elderly — or PACE.
Karen Tanner, the cooperative extension's unit coordinator for family and consumer sciences, explained the goal of Food for Long Life is to promote healthy eating in both children and older adults.
"We know that we're in a food desert. We know that that's a challenge," she said. "We can't fix it with this, but we can get to a little piece of the pie."
During multiple sessions each month, Head Start students and PACE participants learn about healthy food and nutrition and are taught about alternatives to fast food at the PACE center on Federal Street. On Wednesday, they learned about turnips. They began the lesson with a song, and then organizers passed out paper, paint and turnips that were cut into wedges. The children joined the seniors in using turnips to make shapes with different-colored paint on their pages. After that, each table got a paper plate with smaller pieces of turnips and ranch dressing for everyone to sample.
Tanner and her team are in the second year of a five-year grant for Food for Long Life; she said she hopes the program will continue on even after the five years are over. There are other elements of the program, including classes for parents. One recent class taught slow cooker cooking — how it's easy to "throw everything in the Crock-Pot" before parents leave for work and come home to a finished meal, she said.
On Wednesday, Tanner and her team were filming some of the adult-student pairs to observe how they interacted. She said they were watching to see "if [the kids are] more likely to taste the vegetables because their adult buddy tastes the vegetable."
"That's where that research component comes into it," she said. There is also a control group of students who do the same lesson but without the adults, to see how helpful the intergenerational influence is.
For the seniors, who are nursing home-eligible but instead visit the PACE center and receive other services at home, the program is worthwhile.
"I love working with the children," said Shirley Hudson, one of the seniors who took part in the program Wednesday. "I went to White Rock School when I was a little girl."
The seniors can choose to participate in the program as one of the activities available at PACE. Tanner said the number of adults participating has grown in the last few sessions.
Maryellen King, another PACE participant, said the program is "very nice. Nice people." She said she enjoys working with children because she has "quite a few of them" herself.
Five-year-old Thomas Brooks was paired with Hudson. He had filled his paper with the turnip painting and was asking for more paper, but instead, the smaller pieces of turnips and ranch dressing arrived.
He tried one and said he never had eaten a turnip before but liked it. He added it tasted like cauliflower. Hudson said she thought it tasted more like a potato.
Mary Simonetta, community outreach manager for PACE, said spending time with seniors is an important learning experience for small children. Some PACE employees went to the Head Start classrooms before the students came for their first session to explain what wheelchairs and oxygen tanks look like and what they are for.
"All kids really need to know that," she said.
Simonetta said some of the adults have dementia, but they do better with the children than they do on their own.
"It's wonderful to see the synergy," she said. "Our participants look forward to the kids coming. There's certain kids that go running right to a specific person."
#ndn-video-player-3.ndn_embedded .ndn_floatContainer margin-top: 10px; margin-bottom: 20px;