First off, if you didn't hear it from me already on social media yesterday, Happy Thanksgiving! If you're not located here in the States, then yesterday was probably just another typical Thursday for you, so hope you enjoyed your day yesterday :-p
Now that Thanksgiving is over, the Holiday Season is in full swing! The Christmas trees and the wreaths are going up, and the holiday decorations are starting to go on full display. This means that holiday parties are about to start. With family, with friends, and with work, you'll probably be going to at least a few of these soirees before New Year's 2018! This can lead to some pretty terrible eating choices if you're not on top of your game…
Fortunately, you have me, who will be presenting you with both a Christmas Day and a New Year's Guide in the next month to stay on track during these holidays. You know — Guides equipped with healthy recipes for the snacks, appetizers, and desserts that you want to have but definitely shouldn't be eating if you're looking to lose weight and keep it off 😉
That being said, it's extremely common to have a a 'Screw it!' mentality until New Year's. The consumerism mentality we've been fed since childhood kicks in this time of year, and all we want to do is binge-eat and binge-buy food and gifts we and the ones we love simply don't need (Well, sometimes the gifts are needed, but the holiday cookies and the egg nog certainly aren't!).
So, without further adieu, I present you with two simple tricks you can utilize to insure that you're never caught unprepared at one of the many upcoming holiday events you'll encounter over the next month:
Don't feel left out, and show your friends and family members that just because a food is healthy doesn't mean it has to taste crappy. I won't leave you guys hanging — With seasonal guides coming out like my Thanksgiving Recipe Guide, you'll have some delicious options you can prepare that won't do any damage to your health or to your waistline. If you're interested in making a further dietary change, in general, check out both my Food Guide and Recipe book here: www.weightlossbypete.com/foodguiderecipes.
Don't believe me? Check out what Holiday Jump Start Program member, Lisa, brought with her to her Thanksgiving dinner yesterday evening: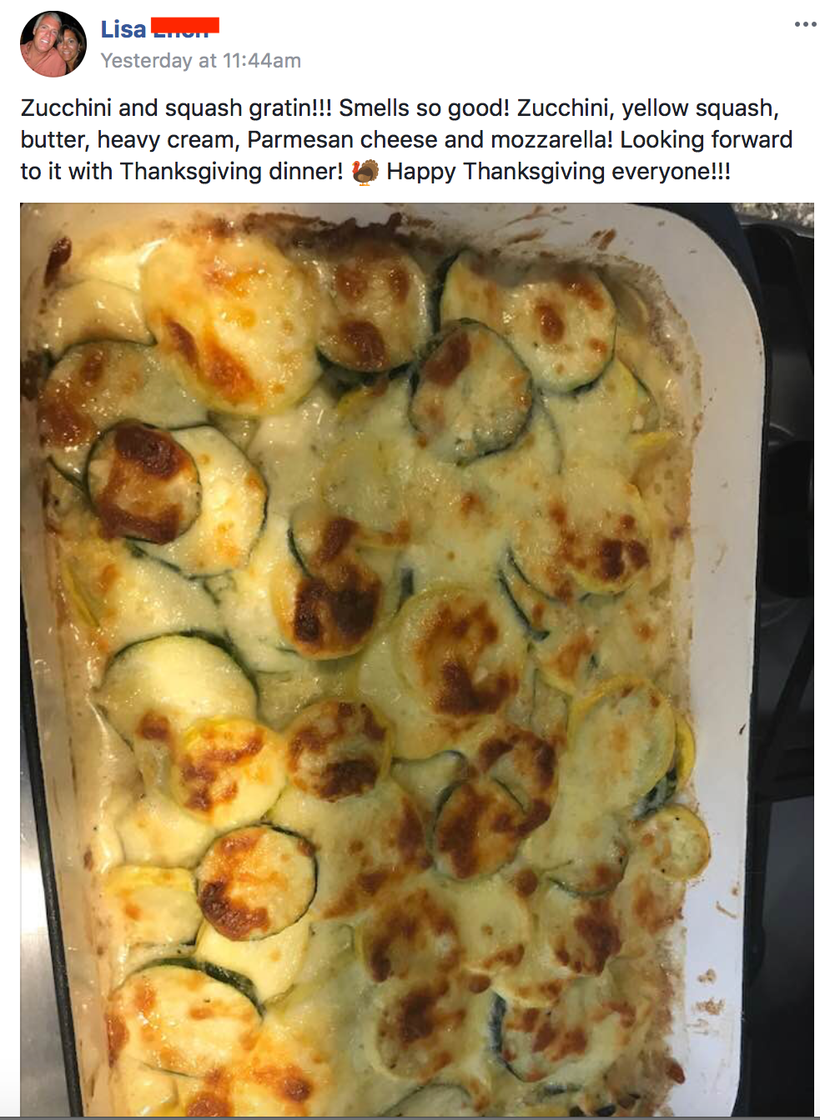 If you're just stopping by a party, bring a healthy snack with you to eat right before going in. A handful or two of organic, raw nuts, or a low-glycemic fruit like an apple should work out well!
2) Ask yourself this one, simple question every time you feel the walls caving in…
I've seen a lot of people come into my world that talked a big game, but when it came time to execute, they didn't even fail, because they didn't even try! Every time an event came up where unhelpful foods were being served in abundance, they immediately began to blame their circumstances and their surroundings for their inability to stay the course.
If you follow the first tip (See '1) Prep!,' above), and you really, truly want to lose weight, you're not going to give in every time the going gets tough. The first two weeks of a nutritional change are the hardest — You're going to most likely go through severe cravings and withdrawal from the grains, the processed chemicals and the sugars that made up the bulk of your nutritional world. That being said, once you get past that initial phase, something amazing happens: Your palate changes, and your cravings go away! You're no longer a slave to the food addictions that got you to start this journey in the first place. You're free to continue to improve your quality of life, and get the weight off FOR GOOD!
Hope you found this helpful. Have a great Friday!
Sincerely,
Pete Weintraub
pete@weightlossbypete.com
P.S. My Holiday Jump Start Program is coming to an end at the end of this week. It was a great experience for both myself and for my group members, and it's shown me that these groups are the primary way I'd like to help more people going forward.
If you're interested in a group that will help to both educate you, and, more importantly, to keep you accountable on your journey, then EMAIL ME at 'pete (at) weightlossbypete (dot) com' with the words 'I'm interested!' I'll be sending out more information about how you can get involved with my next group over the weekend. We're starting up this coming Monday, 11/27!
Don't take my word for how awesome this group was for the members. Here's a little snapshot of what my Holiday Jump Start members had to say over the course of their programs:




Again, if you're interested, simply EMAIL ME at 'pete (at) weightlossbypete (dot) com.'