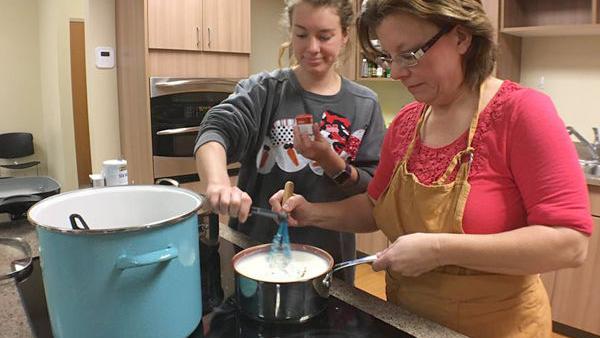 COLUMBUS — The hustle and bustle of everyday life can leave little time to make healthy eating decisions.
Luckily, Columbus Community Hospital has an easy solution to this dilemma.
For the past 16 years, CCH has offered cooking classes taught by registered dietitians.
The classes are both health-focused and hands-on.
"The cooking classes are not demonstrations," said registered dietitian Joan Plummer, who helps lead the program. "The participants do everything. They are divided up in groups of two or three and we teach them how to prepare their food with the ingredients and cooking supplies that are provided with the class."
The courses follow recipes selected for each monthly topic.
"For our January class they learned how to make 'super soups,'" Plummer said. "They had meat, chicken and beans for sources of protein and were able to learn about other proteins that can be used for soups. All the recipes we offer are low-calorie and low-sodium, as were the soups we made."
Each class lasts 90 minutes, keeping participants plenty busy.
"We work pretty hard in class," Plummer said. "Recipes are made and time is given for those who have questions about preparation. In such a very rushed society, we try to make healthy recipes that are quick and easy to make."
"Sinful sweets" is the topic for the Feb. 20 class, covering treats that contain little to no fat. Ten more monthly classes on various topics will follow throughout the year.
Plummer, who has been a dietitian for 40 years and is also a diabetes educator, notices a trend in societal health.
"Lifestyle has a lot to do with preventing disease and diabetes," she said. "The reception has been very well with the cooking classes, which tells me this is something people in the community want to do. They want to know how to make healthy food and better lifestyle choices."
Cooking classes are held from 5:30-7 p.m. in the multipurpose room at the Columbus Wellness Center. Each class costs $15 per person, with a maximum of 20 participants.
The Feb. 20 class on "sinful sweets" is already full, so the next open class is March 20, when "beneficial herbs and spices" will be the focus.
For more information or to register, call 402-562-4462.