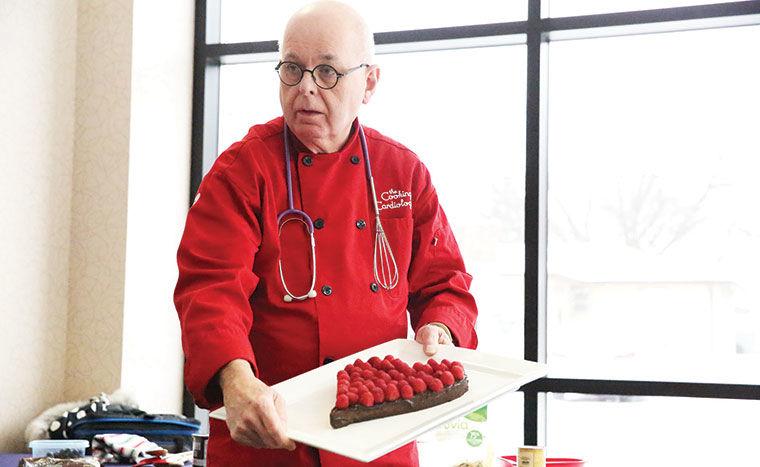 #ndn-video-player-1.ndn_embedded .ndn_floatContainer margin-top: 10px; margin-bottom: 20px;
#ndn-video-player-2.ndn_embedded .ndn_floatContainer margin-top: 10px; margin-bottom: 20px;
YORK— Dr. Richard Collins, also known as "The Cooking Cardiologist," visited York General Hospital Tuesday afternoon to demonstrate and share some of his heart healthy recipes.
"We were telling people what to do. What they should eat. What they should avoid. It was diet by deprivation and we were getting nowhere," said Collins, commenting on why he began developing his recipes. "Taking care of your heart starts in your kitchen."
The goal is to teach people, both those who have had a cardiac event and those who wish to prevent one, how to cook for a long, delicious life. Collins hopes to teach people how to enjoy their food while also making it healthier for their body.
He is a Nebraska native and graduated from the University of Nebraska College of Medicine in 1968. He completed his training at the Mayo Clinic in Rochester, Minn. Along with being board certified, Collins is also a fellow in the American College of Cardiology. He also served in the U.S. Navy and was a physician to the U.S. Congress from 1972 to 1973.
In 2012 and 2013, Collins was recognized as one of the Top Physicians in America, and in 2015, he was awarded Strength in Health: Physician's Excellence in Health Care by the Denver Post.
After serving as the director of Heart Disease Prevention and Wellness at South Denver Cardiology Associates in Littleton, Colo., Collins retired in 2017. Currently, he lives in Stromsburg and serves both Sharecare and the Dr. Dean Ornish Heart Disease Reversal Program. He also continues to give lectures nationally about cholesterol management and is a part-time lecturer for the PA program at the University of Nebraska College of Medicine in Omaha.
Collins has been seen on national TV many times and conducts his cooking demonstrations across the country. He has written three heart healthy books where he stresses his belief in looking and cooking on the light side of life.
He will be having two more cooking classes this afternoon (Wednesday) at Hearthstone in York. Both classes will be in the Great Room. The first class will take place from 1:30 p.m. to 2 p.m. and the second from 2:15 p.m. to 2:45 p.m.
#ndn-video-player-3.ndn_embedded .ndn_floatContainer margin-top: 10px; margin-bottom: 20px;