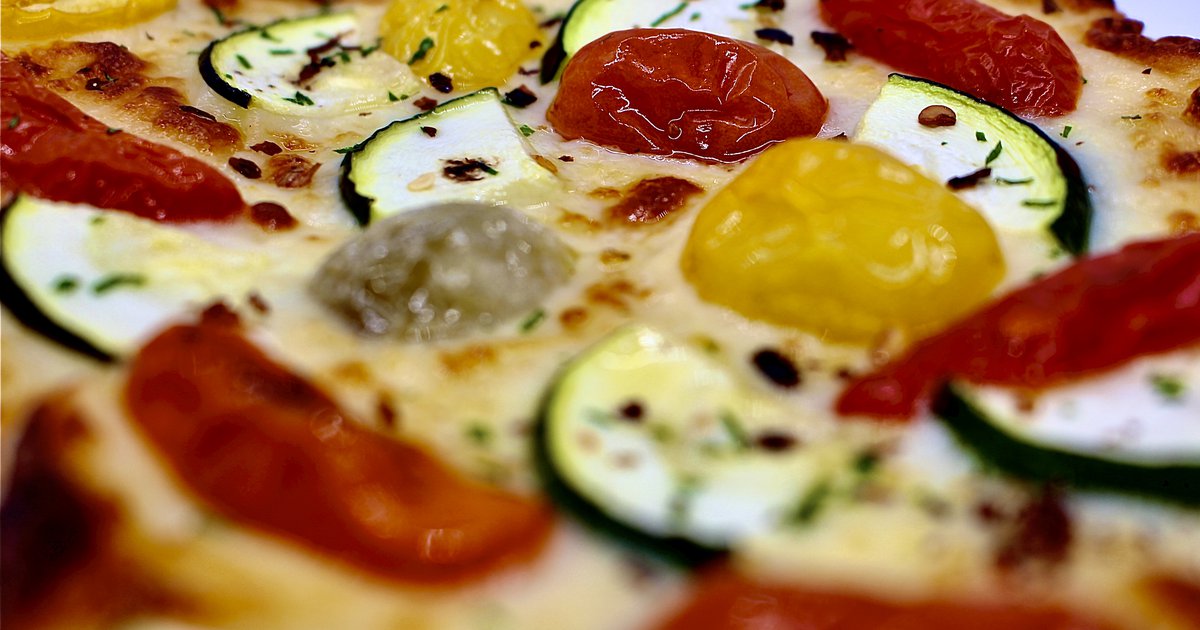 On the search for delicious vegetarian dishes? Then you're going to love
this zucchini and tomato flatbread recipe. Made with fresh produce, honey,
part-skim ricotta, and a few simple spices, these easy-to-make flatbreads
are sure to become a family favorite.
Zucchini and Tomato Flatbreads – makes 4 servings
Ingredients:
• 1 medium zucchini, sliced
• 4 oz. of grape tomatoes
• 2 garlic cloves, minced
• 1 lemon, zested and cut into wedges
• 4 oz. of part-skim ricotta
• 1/3 teaspoon of kosher salt
• 1/3 teaspoon of black pepper
• 1 tablespoon of canola oil
• 1 tablespoon of olive oil
• Two 4-oz. flatbreads (or naan)
• ½ oz. of fresh basil leaves
• 1 teaspoon of red pepper flakes
• 1 tablespoon of honey
Directions:
Adjust oven rack to top position and place a lightly oiled baking sheet in
it; preheat oven to 450 degrees Fahrenheit with sheet inside.
Heat 1 tbsp canola oil in a large pan over medium heat. Add zucchini and
cook, stirring, until lightly browned and softened about 5-6 minutes.
Season lightly with salt and pepper.
Meanwhile, in a small bowl, combine halved tomatoes, minced garlic and 2
tsp olive oil. Season lightly with salt and pepper.
In a second small bowl, combine ricotta cheese, 1 tbsp lemon juice (from
1-2 wedges), 1 tsp olive oil and ½ tsp lemon zest.
Assemble and bake flatbreads: Place flatbreads on large cutting board.
Evenly spread flatbreads with ricotta and top with zucchini and tomatoes,
cut sides up. Remove preheated baking sheet from oven and place flatbreads
on it, and bake until flatbreads are golden brown, about 10 minutes.
Once flatbreads are baked, top with roughly torn fresh basil, remaining ½
tsp lemon zest, chili flakes and drizzle with honey and lemon. Cut into
slices.
Nutritional Information (per serving)
Calories: 325
Fat: 15g
Saturated Fat: 3.5g
Carbs: 39g
Fiber: 2g
Sugar: 9.5g
Protein: 10g
Sodium: 660mg
---