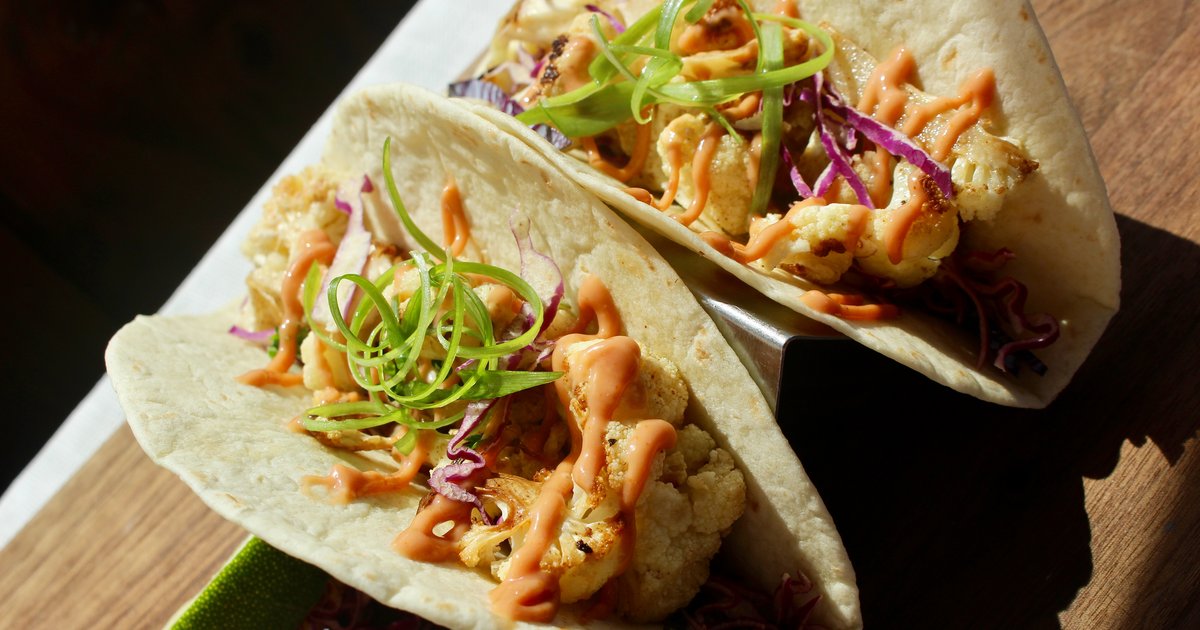 Looking for a simple weeknight meal? Then you're going to love this roasted
cauliflower taco recipe from Independence LIVE's weekly healthy cooking class. What these
veggie tacos lack in meat, they make up for in big, bold flavors.
Roasted Cauliflower Tacos
Ingredients:

For the cauliflower:
1 medium (about 2.5 lbs) cauliflower head
2 tbsp. of olive oil
1 tsp. of cumin
½ tsp. of (unsalted) garlic powder
½ tsp of kosher salt
½ tsp. of black pepper, freshly ground

For the pickled cabbage:
1 cup of (distilled) white vinegar
1 cup of water
1 tbsp. of sugar
1 tsp. of kosher salt
¼ small head of (cored) shredded red cabbage

For the tacos:
2 medium avocados, sliced in half
½ cup of Greek yogurt
½ cup of fresh cilantro
½ lime, juiced
Directions:
Make the pickled red cabbage:

Put vinegar, water, sugar, & salt in a medium saucepan. Bring to a boil
over medium-high heat, stirring occasionally to dissolve the sugar. Place
the cabbage in a medium, heatproof bowl and pour the vinegar mixture over
the top. Stir to submerge the cabbage as much as possible. Let it sit while
you prepare the cauliflower, then drain and discard the liquid.
Roast the cauliflower:
Arrange a rack in the middle of the oven and heat to 425°F. Place a rimmed
baking sheet in the oven while it is heating. Core the cauliflower and cut
it into small 1-inch florets that don't have any stem attached. Place the
cauliflower in a medium bowl, add the remaining ingredients, and toss to
combine. Remove the hot baking sheet from the oven, transfer the
cauliflower onto the sheet, and spread into an even layer. Roast until
browned in spots but still crisp-tender, stirring halfway through, about 20
minutes total.
For the tacos:
While the cauliflower is cooking, scoop the avocado in a medium bowl and
mash. Stir in the yogurt, 1/4 cup of the cilantro, lime zest, and juice;
set aside. When the cauliflower is ready, drain off the liquid from the
pickled cabbage. To assemble, fill the tortillas with the pickled cabbage
and cauliflower, then top with the avocado mixture and remaining 1/4 cup
cilantro.