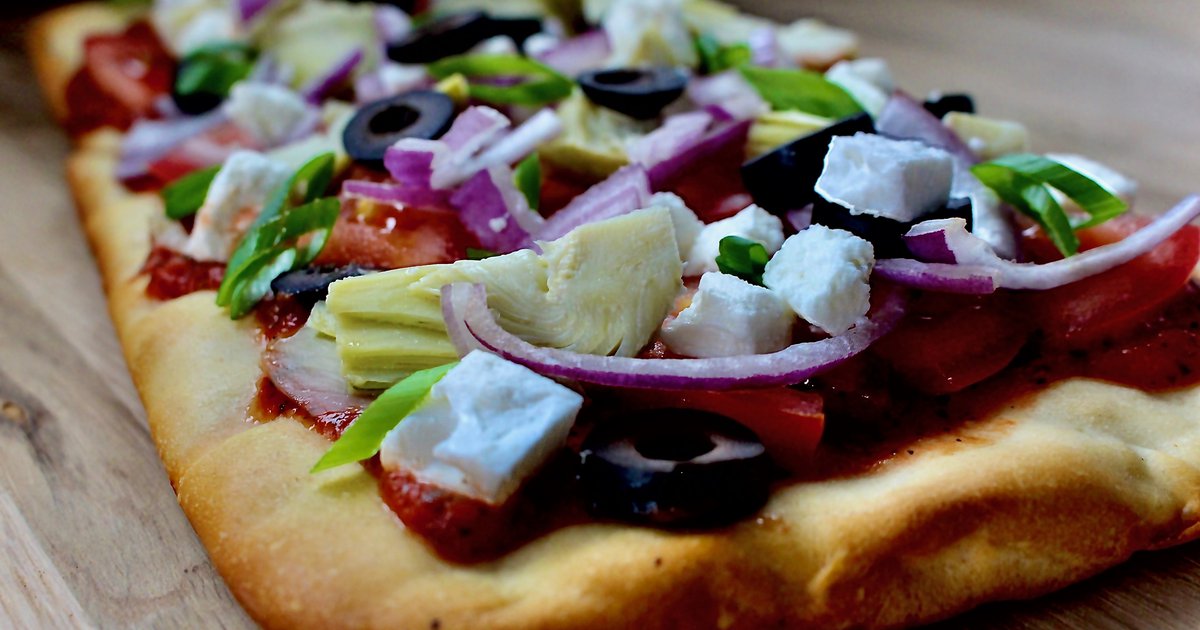 Searching for a healthy appetizer to serve with dinner? Look no further
than this Mediterranean chickpea flour flatbread. Made with garbanzo flour,
chickpeas, artichoke hearts, olives, onions, tomato, and feta cheese, this
delicious recipe is high in protein, easy on the waistline, and can be made
in about 30 minutes.
Mediterranean Chickpea Flour Flatbread – 4 servings
Ingredients:
• ½ cup of marinara sauce
• 2 tomatoes, sliced
• ½ cup of artichoke hearts, sliced
• ¼ cup of black olives, sliced
• ¼ cup of red onion, sliced
• ¼ cup of chickpeas (15 oz.), drained and rinsed
• 3 tablespoons of feta cheese, crumbled
• Fresh basil for garnish
• 1 cup of garbanzo fava flour
• 2/3 cup of water, room temperature
• 2 garlic cloves, minced
• 1 tablespoon of Italian seasoning
Directions:
Preheat oven to 350° F.
Line baking sheet with parchment paper and spray with oil.
Mix garbanzo flour and water together until all clumps are gone. Stir in
garlic and Italian seasoning. Let rest for 10 minutes if mixture is too
thin.
Pour mixture onto covered baking sheet. Use rubber spatula or spoon to
spread out evenly.
Bake for 10 minutes, then remove from oven.
Top flatbread with marinara sauce, tomatoes, artichoke hearts, olives,
onions, chickpeas and feta cheese.
Return to oven for 8-10 minutes, or until crust is golden and vegetables
are cooked. Remove from oven, garnish with basil and cut into slices. Serve
warm.
Nutritional Information Per Serving (2 slices):
Calories: 235
Fat: 9g
Carbs: 29g
Fiber: 8g
Protein: 11g