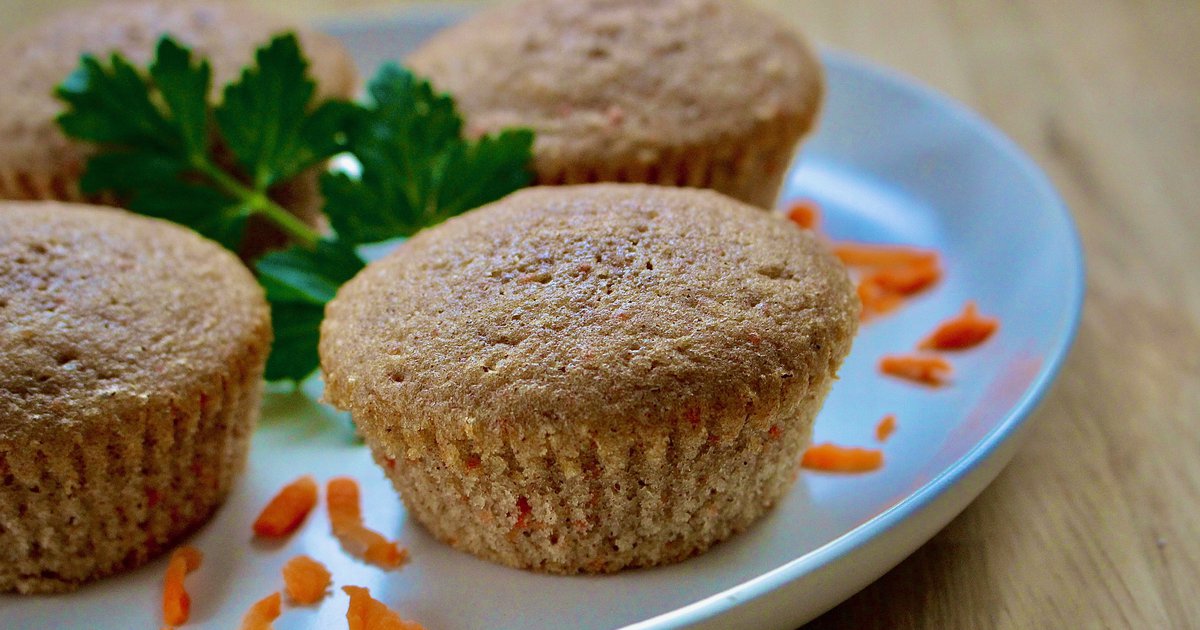 It's possible to have your cake and eat it too. These carrot cake muffins
are simple to make, full of flavor, and will only set you back 165 calories. For an extra sweet snack, you can add cream cheese icing and enjoy it as a cupcake!
Carrot Cake Muffins – makes 16 servings
Ingredients:

• 1 1/3 cups of whole grain flour
• ½ teaspoon of baking soda
• ½ teaspoon of baking powder
• ½ teaspoon of fine-grain sea salt
• 1 ¼ teaspoon of cinnamon
• ¼ teaspoon of ground nutmeg
• ¼ teaspoon of ground ginger
• ¼ teaspoon of ground cloves
• 2/3 cup of packed light brown sugar
• 1/3 cup of coconut sugar
• 2 eggs
• ¼ cup unsweetened applesauce
• ½ tablespoon of pure vanilla extract
• ½ cup of vegetable oil
• 1 ½ cups of carrots, peeled and shredded
Directions:
Start with room temperature ingredients. Preheat oven to 350F (you can soak
eggs in room temp water for 10 minutes if you forgot to take them out).
Insert liners into muffin tin.
In a medium-sized bowl, whisk together the flour, baking soda, baking
powder, salt, cinnamon, nutmeg, ginger and cloves. TIP: When measuring
flour, use a spoon to scoop flour and pour into a measuring device, then
level off to ensure you don't use too much flour.
In a separate large mixing bowl, use hand mixers to beat together sugars
and eggs until combined.
Mix in applesauce and vanilla extract. With mixer running on low speed,
slowly pour in vegetable oil and mix until combined.
Finely shred the carrots (on the small side of your grater and measure to
ensure you have 1 and 1/2 cups).
Add the dry ingredients right on top of the wet ingredients, and the
shredded carrots right on top of that. Stir until JUST combined, being
careful to not over-mix.
Pour mixture into muffin cups so they're 3/4 full, bake 18-22 minutes, or
until toothpick comes up clean.
Place on wire rack until completely cool.
Nutritional Information Per Serving:
Calories: 165
Fat: 4.3g
Carbs: 2g
Sodium: 94mg
Protein: 2g
Cholesterol: 26.7mg