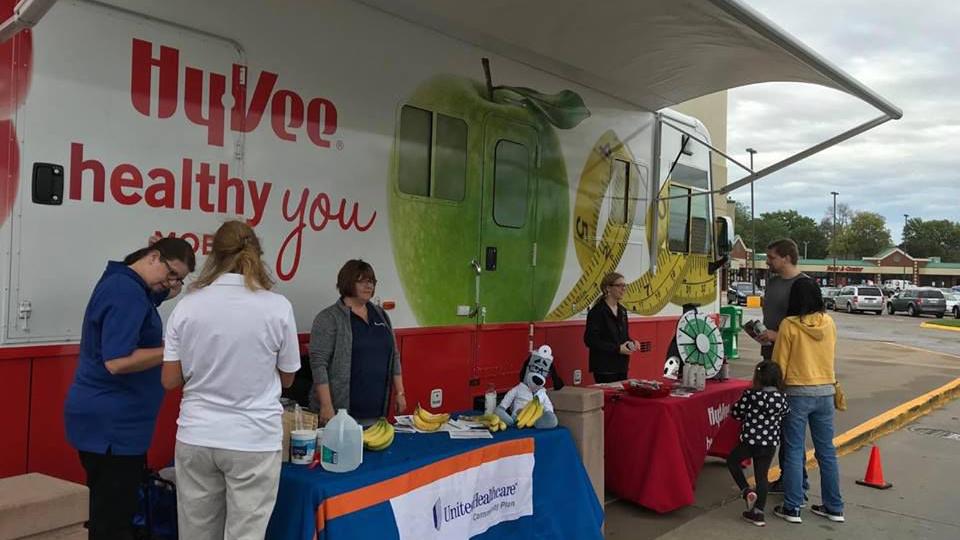 Staying active and in motion has always been a key component to health, and HyVee and UnitedHealthcare kept in that spirit of activity in bringing the Healthy You Mobile Health Fair to Davenport on Saturday afternoon.
Health care experts and other health and wellness resources sidled up to the Davenport HyVee on Kimberly Road from noon to 3 to offer advice, wellness screenings, free samples of healthy food and fare and more to over 50 participants.
"We started offering this in April 2016 and have been going out since then to different events," said Tanya Jefferson, clinical practice consultant with United Health Care. "It's important for us to promote healthy behaviors and practices and we're happy to do that today. Even though it's raining and windy out we've gotten a lot of people."
The mobile health fairs began in early May and will continue through the fall with UnitedHealthcare offering stops in Cedar Rapids, Council Bluffs, Des Moines, Sioux City and Waterloo. Run in conjunction with HyVee, they also feature the store dieticians offering a bevy of advice and tips.
"I like promoting wellness for the community and helping people build healthier lifestyles," said Madeleine Ranshaw, dietician for the Kimberly Road HyVee, who noted that two of the top topics of discussion were diets for diabetes and gluten free lifestyles. "We offer consultations, presentations, cooking classes, frozen meal services, healthy food products in store and more."
Attendees partook in fun activities and were party to a variety of educational materials and resources, including health risk assessments, visits with the dietitian, healthy recipe cards, and healthy snacks. In addition, kids had the opportunity to visit with UnitedHealthcare mascot, Dr. Health E. Hound, about the importance of physical activity and healthy eating.
"It's very good for the community," said Kelly Hilton of Bettendorf, who tried different smoothie samples with her daughter.
"I like that it gives people the chance to look into many healthy lifestyle choices," said Marcus Trice of Silvis, who stopped by to ask the dietician about the differences between red and green apples, and pick up a free granola bar and drink. "I think these ladies are doing a fantastic job."
"We're happy to help, that's why we're here," said Jefferson. "The benefits of healthy eating and living are obvious."