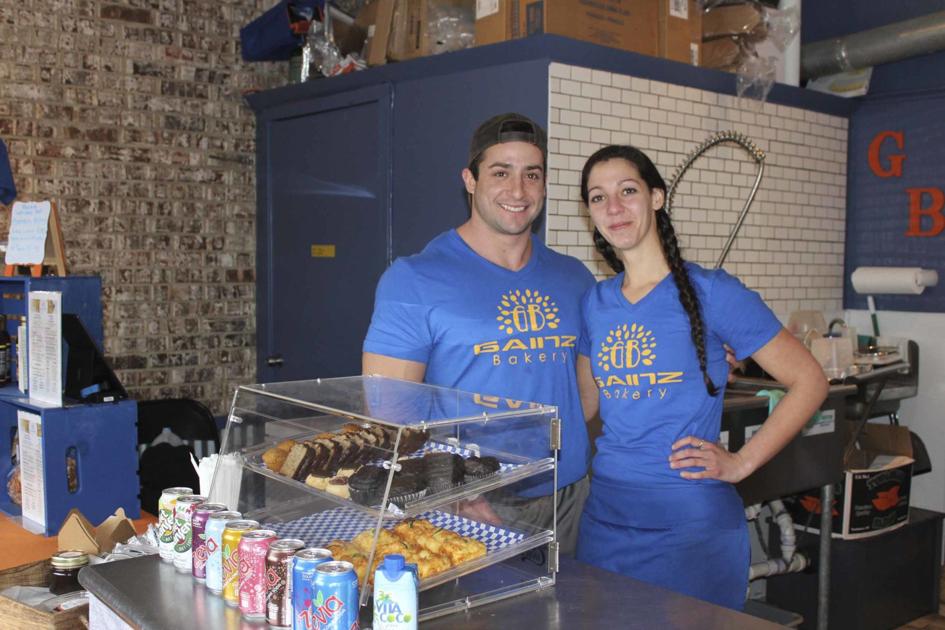 When Elaina Panagakos set out to make a healthy post-workout food for her now-husband Ross Flanigan, she didn't expect that would lead them to New Braunfels.
The couple opened Gainz Bakery in New Braunfels at the end of last year and since then, business has boomed.
The journey to the bakery started about three years ago, when Flanigan was a personal trainer in Maryland. He was having trouble finding a snack that was both healthy and used whole ingredients for after his workouts.
At that point, Panagakos set out to make something better than his current snack of low-fat muffins.
"She took what I was eating in my diet, the staples, and tried to make something that would replace those low-fat muffins," Flanigan said. "She just started baking. She'd never baked before."
It took a long time and many trials and errors, but eventually, Panagakos brought Flanigan a batch of muffins.
"She said they have no sugar in them," Flanigan said. "I tried one and I was like get out of here. You're lying to me right now. I ate all of the muffins."
Flanigan was even amazed that the kids he trained loved the muffins because he struggled to encourage them to eat whole, healthy food.
"If this … kid can like our muffins, I think we have something," Flanigan said.
As Panagakos perfected the recipe, the couple decided to move to Austin to in 2016 to pursue opportunities for creating an online healthy food shipping service. They experimented with online sellers.
To gain certification for labeled products like gluten-free or vegan food, the couple needed their own space for baking.
That is what led them to New Braunfels. Panagakos found the space that the bakery is currently in – on Walnut Avenue by the Braunfels Haus Apartments – and set to work baking in July.
"We all know what is healthy," Panagakos said. "It's not fair for the consumer to have to go out of the their way to be healthy. If we can change that, that's cool."
After passing out some samples at the YMCA, Panagakos and Flanigan's business expanded. They both said they were surprised how quickly word of mouth spread.
At that time, Gainz products were only being sold online, but the couple quickly decided to switch to serving walk-in customers.
"If we're slow, (the customers will) just talk to us," Flanigan said. "It allows us to be who we are with the customer and interact in a certain way that I think is real special."
The couple said that the bakery allows them to interact with customers and help people get healthy, whole food. Panagakos stressed that she wants it to make it easy for people to get food that will make them feel better.
"We're not serving just regular stuff," Panagakos said. "It's going to make you feel better. Health should be convenient and easy."
Now, Gainz Bakery is in the process of relocating to a new space in Town Creek.
They said that they are lucky to have found their current location because it brought them to New Braunfels.
"We love New Braunfels because it is a community," Panagakos said. "It's not just another city."
Gainz Bakery should be in the new Town Creek location by late April or May.