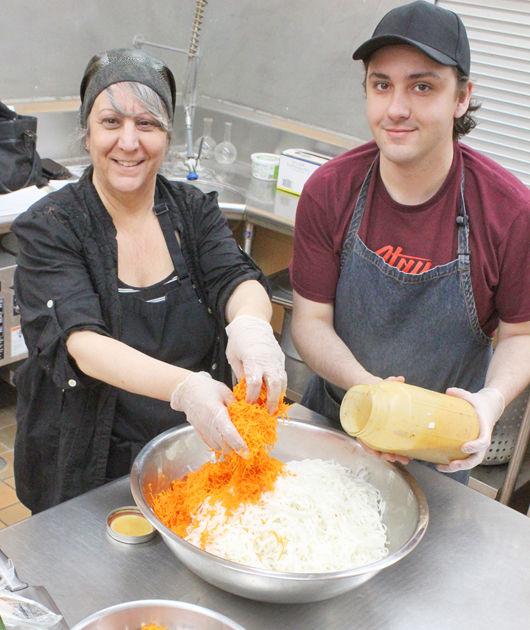 Clean, healthy food that tastes good; that's what My Momma's kitchen, based in Weyerhaeuser, does.
"We're a company that makes food for people with food allergies—especially gluten and dairy," said Linda Kucharski, who owns and operates the business with her son, True Kucharski. They provide gluten-free, dairy-free, vegan and clean-food options.
The duo are new to Weyerhaeuser, moving to the area in June 2017. Linda's brother, Steve Trovato, lives in Chetek and Linda grew to love the area. The business is based in the kitchen at the former Frederick Weyerhaeuser school, now the Frederick Weyerhaeuser Specialized Technologies building, also home to a variety of businesses.
My Momma's is a gluten-free kitchen. Gluten is a protein found in wheat, barley and rye. Those with a sensitivity to it often have gastrointestinal problems. Those with celiac disease, the most severe form of gluten sensitivity, must avoid gluten or risk destroying their intestines and facing serious health issues.
Twenty years ago, Linda discovered her gluten sensitivity. She has always been a cook, making food for her family and friends, but the foods she found to eat were not as tasty. She started making her own.
"I learned how to transform food I could eat into food that I wanted to eat," Linda said.
When people think of health food, or allergen-free food, they may think of bland tastes and cardboard-like textures. Instead, My Momma's makes food that replicates the dishes people can't eat anymore, such as many flavorful, ethnic-inspired dishes. They do Indian, Brazilian and Southern styles, as well as a variety of Asian styles. They make chicken quesadillas and peanut butter buckeyes, for example.
True added that it isn't all health food, but healthier, clean food. Their gluten-free cookies are not without a lot of butter and sugar, but they are made without all the chemicals that are common in many processed foods, Linda said. In that way, they are clean foods, she said. They seek nongenetically modified, kosher and organic ingredients.
My Momma's was started in 2013. After college, True tried to start a farm, but it failed—too many insects, he said. Since they already had a farmers market booth reserved, they began selling Linda's gluten-free food.
"We were at a farmers market and there was this woman looking for gluten-free food," True said. It appeared as if she had been looking for a long time but had come up empty-handed. She asked about their food.
With a flourish, True said it was all gluten-free. "The woman was delighted," True said. That has been the inspiration for the company, he said; helping people who are underserved with food options.
This does technically make Linda the "momma" in "My Momma's," but the name really came from the farm with the idea that it was everyone's "momma" Linda said. As if one said "We're going to My Momma's."
The kitchen is always researching and developing more foods. Some stay, some go, but they've amassed hundreds of items and recipes. Winter was slow, but they have started getting busier in the last month and they are making more than 100 different items a week—deli items, baked goods, frozen foods, entrées, raw sweets and vegan dishes—True said.
The company is participating in job training with Rusk County's workforce development program. People who have gotten in trouble with the law often have a hard time finding a job, but this program offers a fresh start and a job. They plan to add four or five such employees, they said.
"We want to live a life that matters; to help people eat and live better," Linda said.
The Kucharskis are also building a food truck so they can bring the food to people, Linda said. That will be finished this summer and traveling to area farmers markets and events.
Currently they sell food at Main Street Market food cooperative in Rice Lake and Caffe Tempo in Eau Claire. They still sell orders in New Jersey as well as online via the My Momma's website. Also on the website are tutorials on how to use many of the raw ingredients they offer.