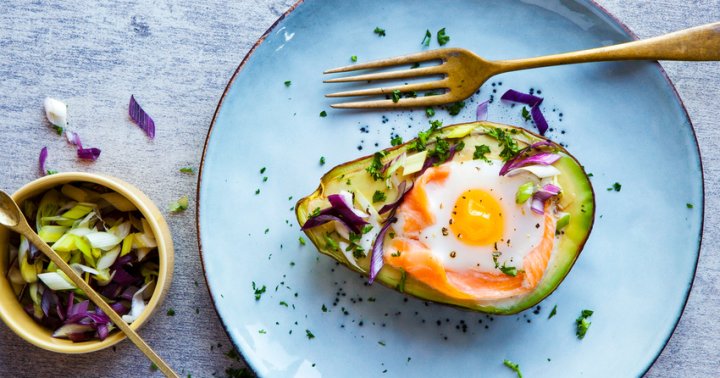 Perhaps the first person to really put ketogenic diets on the map was Dr. Robert C. Atkins, a cantankerous medical doctor who began experimenting with a low-carb diet in 1963. His first book, Dr. Atkins Diet Revolution, was published in 1972. Dr. Atkins died in 2003 from a tragic fall (interestingly, the Atkins website's timeline does not mention his death), but his diet plan lives on today.
Dr. Atkins talked a lot about ketosis back then, and the original Atkins diet was a far cry from what you see today; it was pretty hard-core. Save for lettuce, you consumed zero carbs, and even during maintenance, you kept your carb intake below 40 grams daily.
That plan didn't allow much variety or leeway. Eggs, two small green salads a day, gelatin for dessert, cheese (up to 4 ounces daily), bone broth, no-calorie liquids, and lots of meat: That was pretty much it for the first week. After level one, you added vegetables like broccoli. Yes, you would be in ketosis doing the original Atkins diet, but for most people, that spartan plan would get boring quickly.
Perhaps noticing his patients' boredom, Atkins in subsequent versions of the Atkins diet shifted the focus from ketosis to what are called "net carbs," or your final carbohydrate count after you subtract fiber and sugar alcohols.
The Atkins diet today hardly resembles the original 1972 plan. You've got two options. With Atkins 20®, you start with 20 grams of net carbs a day. During the first two weeks on that plan, most of your carbs come from vegetables like leafy greens. You can also have high-fat dairy like cream, sour cream, and most hard cheeses.
The second plan (Atkins 40®) is a bit more lenient: You start with 40 grams of net carbs a day. About one-third of those carbohydrates should come from vegetables, with the remaining amount coming from fruit, nuts, and/or whole grains. To fit those foods within your 40-gram carb allotment, you'll need serious portion control.
Both plans also include three servings of protein (each 4 to 6 ounces) and three servings of dietary fat, including foods like butter, salad dressings, and olive oil. Once you're past the induction phase, you start adding 5 to 10 grams of carbohydrate at a time until you find your carb threshold.
The shift from ketosis (hardly mentioned today on the Atkins diet) to net carbs allowed more vegetables and other plant-based carbohydrates into the plan (good) but also opened the floodgates for low-carb processed junk foods (not good). Of note, when you subtract fiber content, most green vegetables contain very few carbohydrates.
Today, you can buy a huge array of Atkins shakes, snacks, meal replacement bars, frozen entrees, and even weekly or monthly meal-delivery kits on their website. They offer low-carb versions of comfort foods like Chocolate Peanut Candies, Mac and Cheese, a Stone-Fired Pepperoni Pizza, and Meat Lasagna.
Many of these snacks contain poor-quality ingredients, including artificial colors and sucralose, an artificial sweetener that studies show adversely affects your gut microbiome, increasing insulin resistance. Other options, including their frozen entrees, contain the top food sensitivities many people have issues with, like gluten, dairy, soy, eggs, and peanuts as well as junk oils, like soybean oil.
Simply put, among this wide array of processed foods are included lots of low-carb junk foods—bad news for your gut and overall health. Besides increasing inflammation, they can trigger leaky gut, insulin resistance, and other issues that will eventually stall your fat loss as they sabotage your health.
In all fairness, you can do these plans without eating all those processed foods, although (let's face it!) convenience and cravings mean you'll likely be tempted to try them. And they tap into that weakness for "cheating" by making these options easily available. Who would refuse comfort food that is "compliant" with a diet? You can have your cake and eat it too, literally. I call this pseudo-dieting. Even then, eating potentially reactive foods like dairy (which is allowed from the very beginning on Atkins) can either aggravate or trigger food sensitivities ("no bueno").