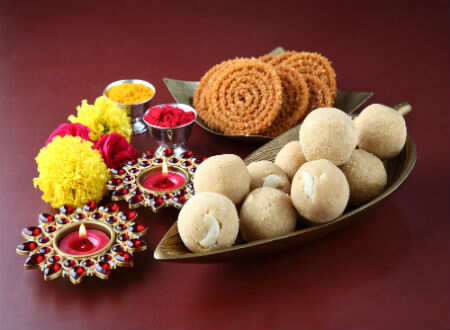 What can be more interesting than gifting yourself a healthy festive season? Healthy eating often goes for a toss during festive time. And compromising on health, especially if you are conscious about it, can put you in an adverse condition. But fret not! For all you health watchers, we have mentioned a few healthy food swaps. Try them and treat yourself a healthy feast!
Instead offrying, roast
: Avoided fried food throughout the year, but cannot resist the temptation during festivals? Then, here's the solution. Instead of frying, roast those food items. They will not only taste good but will also promise good health.
Prefer sugar substitutes
: No festival is complete without a sweet dish. And gorging on sweets during festivals could compromise on your health. Not only weight-gain but eating high sugary foods, could make you prone to diseases like diabetes. Instead of sugar, use jaggery. You could also use dates, cardamom, anjeer, and saffron as they give natural sweet flavour to your food. Add these substitutes in kheer, halva, fruit salad, and rawa sheera.
Crave for puris? They are certainly not a healthy option
: Puris are deeply fried and are loaded with calories. They are tempting but certainly not healthy. Instead of eating this deep fried food, have tandoori chapatti. You can also go for methi chapatti and pudina parathas. These chapatis are healthy, tastes good and are good for your digestion.
HEALTHY FOOD OPTIONS FOR STARTERS
Apart from these healthy food swaps, make sure that your starters are also healthy. We have listed a few options for your starters…
Have Tandoori Platter:
Healthy platter includes tandoori food. Include baby corn, red and yellow bell peppers.These foods are fat-free, tastes good and are healthy too.
Eat tempting Dahi Vadas:
Not fried vadas but prefer baked vadas. Again, these are great for your health. You can use appam vessel to bake them. Add a little oil and use low fat curd to dip them. Garnish it with home-made chutneys and add spices to it.
Have sweet tooth? Try these:
If you have sweet tooth, instead of eating sweets like gulab jamun, rasgullas, make fruit salad or shrikhand using low fat milk. You can also try rasmalai with low-fat milk and can add cardamom, dry-fruits and saffron to it.
Healthy option for Main course
You can go for tandoori options or could cook biryani loaded with vegetables at home. Cook green vegetables, daal or paneer. Add coriander leaves, onions, garlic, spices and chillies to make your food delicious. With your main course, do not forget to eat a bowl of curd.
For mouth-watering sweetdish
Why to eliminate sweet dish when you can make it healthy? Prepare healthy pumpkin pie at home using jaggery or cook kheer and add saffron and cardamom to make it delicious.
Drink healthy
Do not go hard on hard drinks. Drink jal-jeera, nimbu pani, kokum sharbat and coconut water as these are the healthy options!