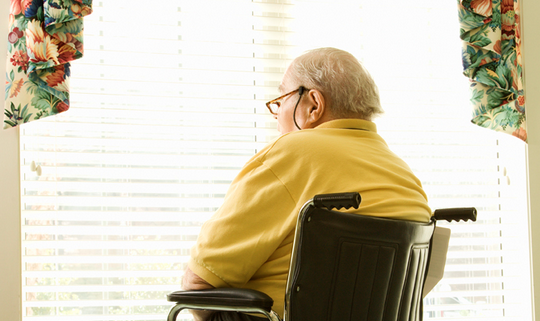 #ndn-video-player-1.ndn_embedded .ndn_floatContainer margin-top: 10px; margin-bottom: 20px;
#ndn-video-player-2.ndn_embedded .ndn_floatContainer margin-top: 10px; margin-bottom: 20px;
A handful of people sat around a table in Charleston about a week and a half ago to talk about how their family members had changed.
"It's just different every day," one of them said.
The West Virginia chapter of the Alzheimer's Association runs support groups throughout the state for family members of people with Alzheimer's disease and other forms of dementia. Support groups are held twice monthly at the Charleston office.
The group talked about practical matters, like incontinence and urinary tract infections. They talked about the guilt that comes with putting a loved one in a nursing facility. They also talked about communicating.
•••
One woman talked about an older male relative who can be mean at times. She'll use her most authoritative voice, and he'll back down. She had to use that voice once when he tried to drive his truck to the store. He had the pedal to the floor but he didn't have it in gear."What they want is things that make them feel like themselves," said Lisa Gwyther, director and founder of the Duke Alzheimer's Family Support Program. She knows a man with dementia who used to volunteer for Meals on Wheels. His wife does the driving now, but he still goes to the door.
"They want to feel like they're making a contribution, just like they did before," she said.
Members of the support group also talked about relatives who "swoop in." Some families call them the "seagulls."
"These are relatives who fly in to visit the family for a short visit, for what some families call tea and criticism," Gwyther said. After a loved one loses their drivers' license, "They look at mom and say, 'Well mom if I was here, this never would have happened to you.' "
"The issue for many families is that the primary caregiver is always going to be more involved," Gwyther said. "They may not know how to ask for help. They may not know that other family members may not recognize how much help is needed, because the person in brief encounters looks great.
"Families have to figure out how they can engage other relatives in ways that are possible and meaningful for them and how they can best explain the person's behavior changes in a way that will encourage other relatives to come forward, and a lot of families have to do that on their own, and they have to make it personal and relevant to them," she said. "In other words, they have to say, 'Dad still loves to go to the children's ball games. Can you take him and give me a break?' "
In North Carolina, where Gwyther works, the state-funded program, initially paid for with a federal grant, offers families respite vouchers and individualized consultation. The consultations, she said, "help the family deal with whatever is most problematic for them right now."
"People with Alzheimer's need to feel included and valued and appreciated for what they can still contribute," she said, "and families need a break too, and they need to be able to have a community that will listen to them without trying to fix it or sort of offer offhand suggestions that trivialize how significant this responsibility is."
•••
One woman, who was new to the support group, said it had been a "long, very rough road" with her mother. "She's at the point where she's not understanding what I'm asking her," she said.Nancy Cipoletti, director of Alzheimer's programs for the West Virginia Bureau of Senior Services, developed a training course in the early 2000s for in-home workers, still used by senior centers in the state. Part of the training focuses on communication.
"Body language speaks volumes sometimes, without saying a word," she said.
"In addition to that, when you're speaking to someone with dementia, you need to make eye contact. Keep that person focused on you. Keep it simple, clear and sincere. Have respect for that person. Remember, this is an adult with a history … One thing I always tell folks is to get low and go slow. Don't position yourself sitting over them or standing over them. A great way to communicate with anyone is touch — not necessarily what you would be comfortable with, but what the other person would be.
"Smiling — that's another way you can communicate with anybody anywhere. Maybe you'll get a smile in return. Maybe you won't, but it certainly gives that person the impression that you're happy to be with them."
"Music is the universal language," she added. "Maybe she can't get to church anymore, but she can listen to some of the old hymns."
Centers offer the training on an as-needed basis. Cipoletti said people who aren't in-home workers could attend. The Bureau of Senior Services, which can be reached at 304-558-3317 or 877-987-3646, also offers state-funded respite and in-home help programs through senior centers.
"I think there are a number of families in the state of West Virginia who don't know these programs exist," Cipoletti said.
•••
After the meeting, one of the women — the one with the older relative who tried to drive his truck — talked about how his old personality comes out now and then. "He's still funny," she said. "He flirts with the nurses."The other day he asked, "Do they still have those margaritas?" If so, he wanted one.
She told him that at his age, he could have anything he wanted.
J.T. Hunter, the support group facilitator, talked about when he crossed his ankles and his relative with dementia saw his argyle socks. "Oh how fancy!" she said.
"You're taking them to that happy place," he said.
"I would love for your readers to know that even in the end stages, you can still read their face," said Ruth Drew, Alzheimer's Association director of information and support services. "You can still bring things that can liven things up. Maybe they love a certain color, maybe a blanket that feels soft. Think of the five senses.
"Is this a person who loved the outdoors? Is there a way to spend some time outside? Or if you can't be outside, is there a window with a view or can you bring the outdoors in?"
She knows a woman with dementia whose two favorite foods have always been cheese and cashews.
"Her teeth failed so cashews were off the table but she could still eat cheese, so anytime they visited, they would always bring cheese," Drew said. "Not only would she eat the cheese and really enjoy the cheese, but she would insist that everyone else there enjoy the cheese. She felt like a hostess. It was empowering to her."
Drew also knows of a man with Alzheimer's who has two daughters. One lived out of town and would come to visit.
"Afterwards, she'd say, 'He's so bad. It's just awful.' She really didn't have that kind of connection and satisfaction you want to have," Drew said. "What she was doing was she would go and try to give him current event updates. The other sister would go and check in with him. His eyes would light up with her.
"She would talk to the person he was but she would also take her cue from him … she also knew his life story so she would play or sing his favorite songs or read passages from books that had been important to him."
She's heard families say, "I see her, but it's like she's not not there anymore."
"I'm here to tell them she's still there," Drew said. "She has a damaged brain. It's hard for her to communicate in ways she used to, but there are still ways to have meaningful communication. She has a damaged brain, but you've got a healthy brain, so who of the two people needs to be flexible?
"Imagine you have difficulty getting your point across and people, instead of talking to you, talk about you in front of you and other people are deciding when you get up, when you go to bed, what you eat, dressing you, bathing you, checking your pants, taking you to the toilet. That's not an easy thing to have to accept."
She suggested imagining another person "talked at eye level, talked calmly and kindly … took their cue from you, noticed if you seemed to be happy or sad, helped you without just grabbing you, helped you do it yourself. How would that improve your life? It is life-changing. It is life-affirming to treat people this way."
If you aren't treated that way, "How would you act?" she said.
"Would you act out? Would you get mad? Would you lash out?"
•••
The support group members shared contact information at the end of the meeting. "I thought I was on an island by myself," a new member said.The Alzheimer's Association estimates about 37,000 people in West Virginia had Alzheimer's in 2017. They estimated there were about 107,000 Alzheimer's and dementia caregivers in 2016.
"These families face so much isolation because people don't know how to act around people with Alzheimer's or dementia," said Carolyn Canini, program director of the West Virginia chapter of the Alzheimer's Association. "It's part of our role to educate them and let them know these families still need your support, even if you're just acquaintances."
"Take them a meal," she said. "Offer to sit with the person an hour while they run and get their haircut."
The Alzheimer's Association holds Effective Communication workshops for family members and friends of people with dementia. They operate a Helpline (1-800-272-3900) and can meet with people individually. They also offer free community workshops. The Charleston walk is planned for Oct. 21 at Appalachian Power Park. The phone numbers for the offices are: Charleston: 304-343-2717; Parkersburg, 304-865-6775; Morgantown, 304-599-1159; Eastern Panhandle, 304-671-3077.
#ndn-video-player-3.ndn_embedded .ndn_floatContainer margin-top: 10px; margin-bottom: 20px;