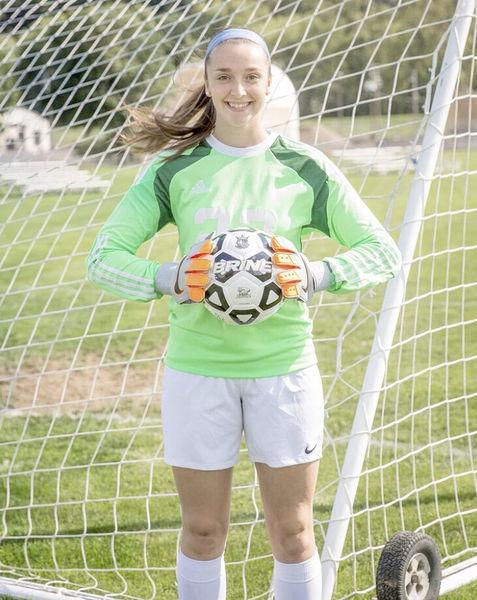 #ndn-video-player-1.ndn_embedded .ndn_floatContainer margin-top: 10px; margin-bottom: 20px;
#ndn-video-player-2.ndn_embedded .ndn_floatContainer margin-top: 10px; margin-bottom: 20px;
Ever wanted to find out why certain athletically inclined individuals choose to step into a goal cage and let opponents unload shots in their direction?
Well, Shikellamy senior Riley Barrett will tell you why she enjoys playing goalkeeper — and why she's been playing the position for nearly a decade.
"I love flying around and being able to dive and stuff," said Barrett, the Braves' four-year starter. "It's a really exhilarating feeling."
Barrett certainly dove around more than enough as Shikellamy pieced together a terrific 15-4-0 season that ended in overtime heartbreak Wednesday night in suburban Williamsport with a 2-1 loss to Heartland Athletic Conference-Division I rival Selinsgrove.
The 5-foot-5 netminder had a hand in 10 shutouts this season and totaled 88 stops in goal for a Braves squad that won 13 of its final 15 outings.
Well, excellence on local soccer fields and basketball courts, along with a sparkling GPA (97/98), is why Barrett bagged the latest Scholar Athlete of the Week award sponsored by The Daily Item, Sun Orthopaedics of Evangelical and PPL Electric Utilities.
The award honors local student-athletes who thrive in the classroom, in the community and on Susquehanna Valley playing fields.
None of those saves were better than the one she made early in the second half of Wednesday's loss, when Barrett flashed her trusty mitts near the right post and gloved a whistling shot uncorked by Selinsgrove's Hannah Grove to keep the Braves up 1-0.
"It's something I've worked really hard on," Barrett said of her shot-stopping ability. "I train all year to improve."
"She made a lot of saves this year," said Shikellamy head coach Angela Sivillo. "Just her improvement in awareness and making clutch saves.
"Whether it was a high (shot), a dive or a punch over the back, she made the right decisions when it came to making the saves we needed."
While Barrett totaled all sorts of saves for the Braves — her ability to get to aerial challenges improved significantly, as did her distribution and communication skills — she also found time to pocket her second career goal in a win over Halifax.
Barrett, who also plays point guard on the Shikellamy basketball team, is planning to continue her soccer career at Penn State Altoona. A recent tour of the school was all the 17-year-old Sunbury resident needed to solidify her college plans.
"I really like the school and the team," said Barrett, a wannabe kinesiology major who wants to design exercise and diet plans once she pockets her degree.
"I took a visit a couple weeks ago and I really liked it."
Yet before Barrett relocates to Pennsylvania's western half, she'll be keeping herself busy with an academic regimen that includes calculus and Advanced Placement courses in American history and biology — among other things.
While calculus is her favorite class, Barrett says biology is the "most interesting."
"It's still early in the year, but when we get into the dissections, that'll be really cool," Barrett said of taking apart frogs and whatever else might be available.
Barrett also spends mornings as a kindergarten teacher's aide.
"I like being around the kids, they're fun, but I don't think I'd like being a kindergarten teacher because it seems pretty stressful just watching the teacher trying to mold these young minds," Barrett said. "They're pretty rambunctious most of the time."
Barrett also belongs to Shikellamy's chapter of the Future Business Leaders of America and is a member of the school's National Honor Society.
"We do a lot of community service through that," Barrett said.
While Barrett doesn't belong to any civic-minded organizations, she does collect clothing to donate. She also spends time with the parent of one of her close friends, preparing dinner and doing other things for the elderly residents of an apartment complex where her friend's mother works.
Slipping back to school for one last yet highly memorable accomplishment, Barrett last month was voted Homecoming Queen by the Shikellamy student body.
"It definitely gave me chills and butterflies. I was running against some really awesome girls, and they're both my friends," Barrett said. "It was a really good feeling just to know that people like me and that people look at me as a good person."
Sivillo was hardly surprised, especially since Barrett meshed well with her teammates.
"Her efforts. Her leadership. She's a really good role model for the younger girls as a senior," Sivillo said. "She's just that kid that's always nice to everybody.
"She was voted Homecoming Queen. She's just that person you want to be around."
Even when she's diving around some goal cage trying desperately to make a save.
Email comments to michaelbullock1960@gmail.com. Follow Bullock on Twitter @thebullp_n.
#ndn-video-player-3.ndn_embedded .ndn_floatContainer margin-top: 10px; margin-bottom: 20px;