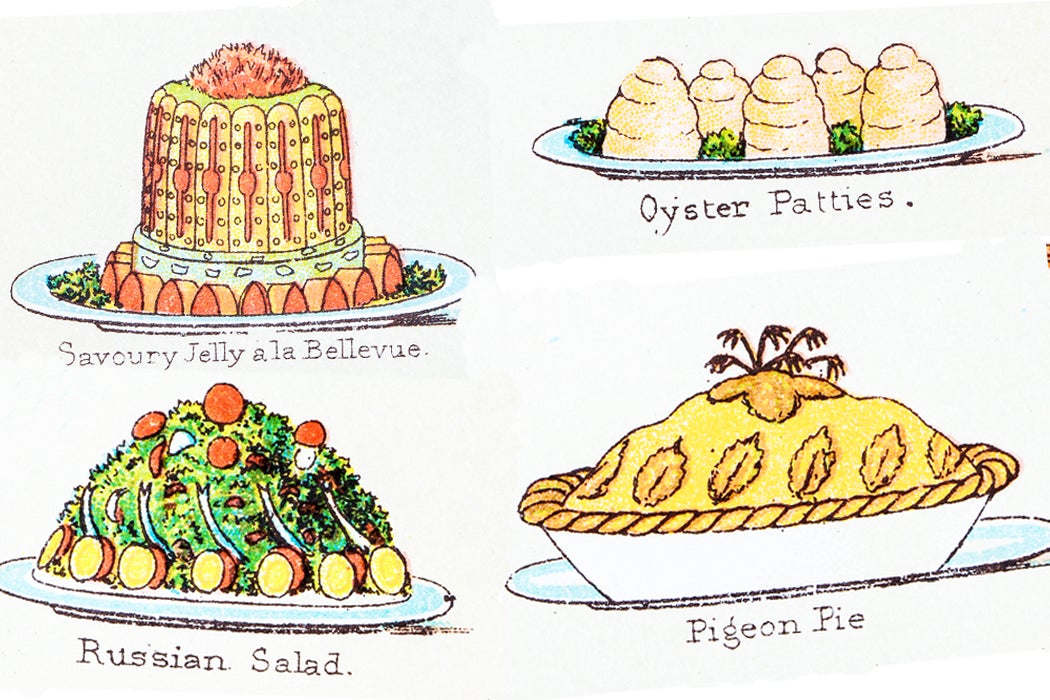 'Tis the season for feasting and family traditions. And around here, that means digging into JSTOR's digital library. Here are some fantastic recipes we've found, which are as much fun to read as they are to make. Click on the names of the recipes to download the entire article PDFs for free!
1. Pauline Barjavel de Carpentras's French Tomato Conserve
"Tomatoes… were rare in the kitchen and on the table before the last decades of the eighteenth century. There were no recipes for tomatoes in French cookbooks of the eighteenth century." Pauline Barjavel de Carpentras's mysterious 1795 recipe for Tomato Conservedoesn't just sound delicious; it also reveals something about the evolution of French cooking.
2. Susan J. Leonardi's Summer Pasta Salad
"My summer pasta…is lovely, sophisticated, delicious, and—because you can assemble the 'sauce' while you boil the water and cook the pasta—quickly prepared…The remainder of this essay is an attempt to explore the nature of the act I have just performed—the giving of a recipe-which seems to me to have some interesting relationships to both reading and writing." After reading this essay you will never see a recipe the same way again. But you will know how to make a light, delicious Summer Pasta Salad.
3. Aunt Adelaine's Sour Cream Apple Pie
"I don't even deal with bottom crusts; all I want are the crumbs on top." The author of this essay waxes poetic about her aunt's exquisite crumb-topped desserts, and includes her prize-winning recipe for Sour Cream Apple Pie, among others.
4. Grandmother's Tabbouleh
"Food speaks its own language. A culture lives and breathes in rising dough. A people's history speaks through mint and thyme. Which helps explain the near-impossibility of sharing a recipe." And yet, this writer manages to share her Lebanese grandmother's recipe for Tabbouleh, along with a healthy helping of family history.
5. MacDowell Colony Whoopee Pies
"For many reasons, the MacDowell Colony occupies storied status on North America's cultural landscape, having in the last century provided artistic sanctuary for the likes of Thornton Wilder, Willa Cather, Aaron Copland, Milton Avery, Leonard Bernstein…" One fiction writer shares his thoughts about how to feed creative work, and includes a 1968 recipe for The MacDowell Whoopee Pie, which he calls, "the ideal conclusion to a virtuous lunch."
---
JSTOR Citations
Gastronomica, Vol. 2, No. 2 (Spring 2002), pp. 68-71
University of California Press
PMLA, Vol. 104, No. 3 (May, 1989), pp. 340-347
Modern Language Association
The Massachusetts Review, Vol. 45, No. 3, Food Matters (Autumn, 2004), pp. 330-338
The Massachusetts Review, Inc.
The Massachusetts Review, Vol. 46, No. 1 (Spring, 2005), pp. 123-127
The Massachusetts Review, Inc.
Gastronomica, Vol. 5, No. 4 (Fall 2005), pp. 89-94
University of California Press