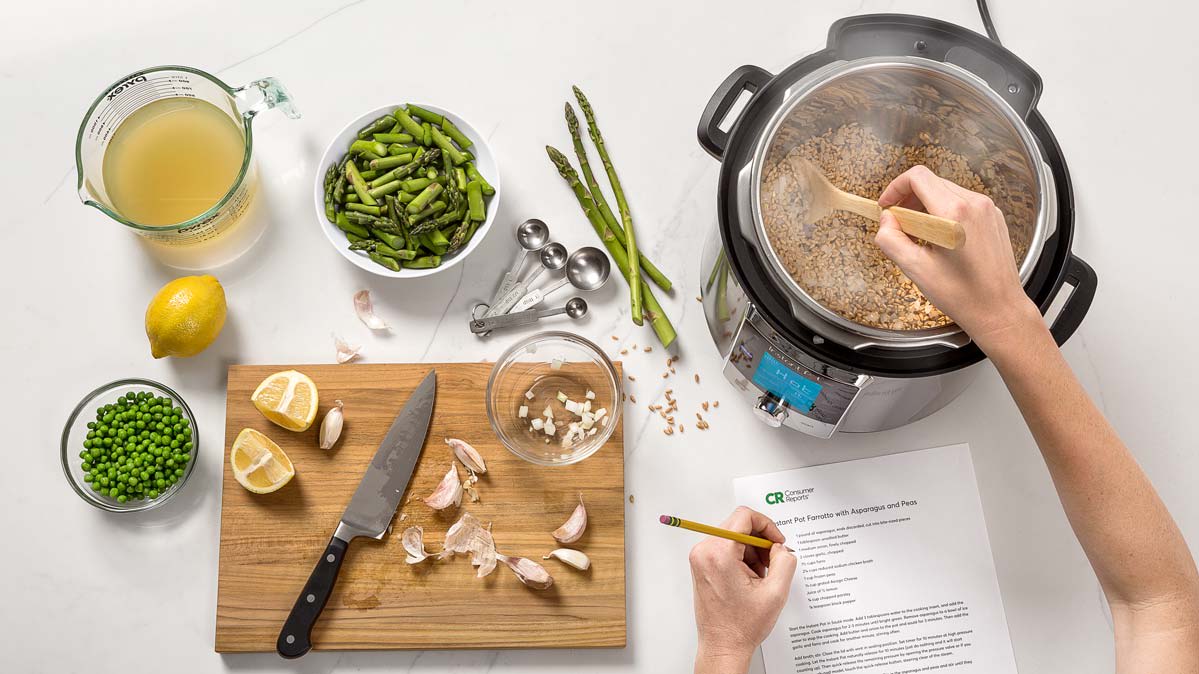 1 pound of asparagus, ends discarded, cut into bite-sized pieces
1 tablespoon unsalted butter
1 medium onion, finely chopped
2 cloves garlic, chopped
1½ cups farro
2¼ cups reduced-sodium chicken broth
1 cup frozen peas
1⁄3 cup grated Asiago cheese
juice of ½ lemon
¼ cup chopped parsley
¼ teaspoon black pepper
1. Start the multi-cooker in sauté mode. Add 3 tablespoons of water to the cooking insert, then add the asparagus. Cook for 2 to 3 minutes until bright green. Remove asparagus to a bowl of ice water to stop the cooking. Add butter and onion to the cooker and sauté for 3 minutes. Then add the garlic and farro and cook for another minute, stirring often.
2. Add broth; stir. Close the lid with vent in sealing position. Set timer for 10 minutes at high pressure.
3. Once the multi-cooker beeps, let the pressure release naturally for 10 minutes, then manually release any remaining pressure by opening the pressure valve. Or if you have a model with a touchpad, touch the quick-release button, steering clear of the steam.
4. Remove the lid. Stir in the asparagus and peas and stir until they are warmed. Add the cheese, lemon juice, parsley, salt, and pepper. Serve.
Makes 4 servings.
Nutrition information per serving: 350 calories, 6 g fat, 4 g sat. fat, 59 g carbs, 9 g fiber, 6 g sugars, 18 g protein, 480 mg sodium.