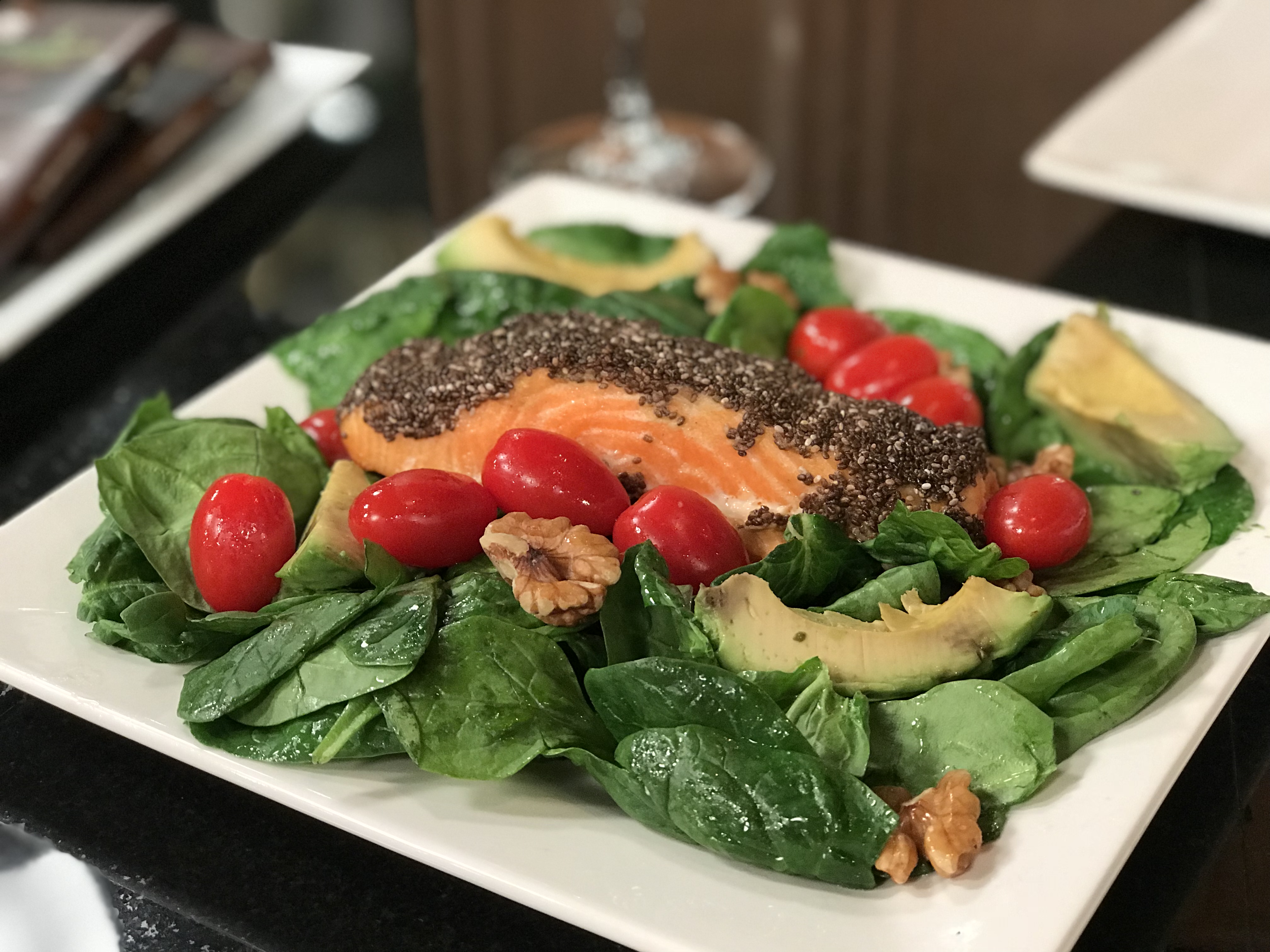 Food is nature's medicine and since February is American Heart Month we have the perfect heart healthy salad from Jaime Coffey Martinez, owner and founder of Nutrition CPR and Registered Dietitian.
Jaime says not only is this salad delicious and filling, it has 10 heart healthy foods combined into one heart healthy meal.
Spinach– keeps blood pressure stable and lowers cholesterol.
Tomatoes– reduces blood pressure and cholesterol, and contains antioxidants, vitamins and minerals that protect against cardiovascular disease.
Avocado– a monounsaturated fat that reduces LDL (bad) cholesterol.
Walnuts– contains plant based omega 3 fatty acids that reduce inflammation and increases HDL (good) cholesterol.
Salmon-rich in omega 3 fatty acids, reduces triglycerides, increases HDL (good) cholesterol and changes LDL particle size to decrease cardiovascular risk.
Chia Seeds-contains plant based omega 3 fatty acids reducing inflammation and risk of stroke and heart attack.
Apple Cider Vinegar-lowers cholesterol and blood pressure as well as numerous other health benefits.
Garlic-contains a compound named allicin, which improves blood pressure and lowers LDL cholesterol.
Dark Chocolate– 72% cacao or higher reduces risk of blood clots and cardiovascular disease.
Red Wine– antioxidants can slow progression of heart disease, increase HDL cholesterol and reduce risk of stroke.
Want more recipes like this? Watch Great Day Washington every morning at 9am on WUSA9 & follow us onFacebook,Twitter and Instagram for more fun features like this!
© 2018 WUSA